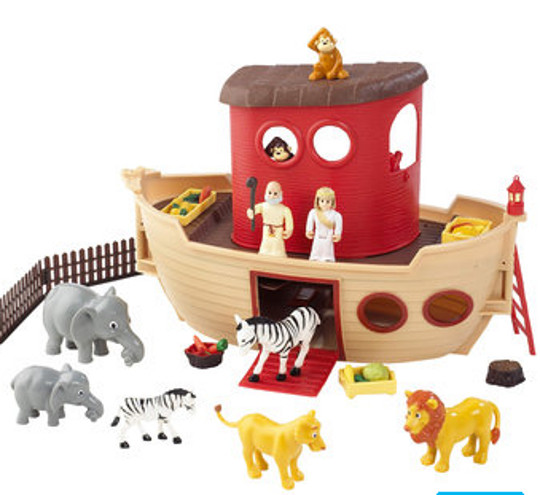 There's a half price offer on Smoby's Noah's Ark playset at Toys R Us at the moment, with the playset selling at £12.49 instead of £24.99, and including free delivery till tomorrow, it's not a bad price.
Well, saying that, I don't think this one floats, but it is an ark and it has animals and people with it. The description is fairly limited, but the reviews are very good, with one person saying it was bigger than they initially thought it would be.
I can't seem to find a definitive list of what's included in the set, but it seems, looking at the picture that they've focused on Africa a bit, with lions, elephants, monkeys and zebras. There also seems to be various food supplies, and a bearded and bald Noah, and his wife. There are also a few accessories, like a hanging lantern and a ladder, but I'm not sure what else.
This is recommended for children 3 and over, I'd imagine due to some of those accessories being smaller parts.
Thanks to missgem at HUKD