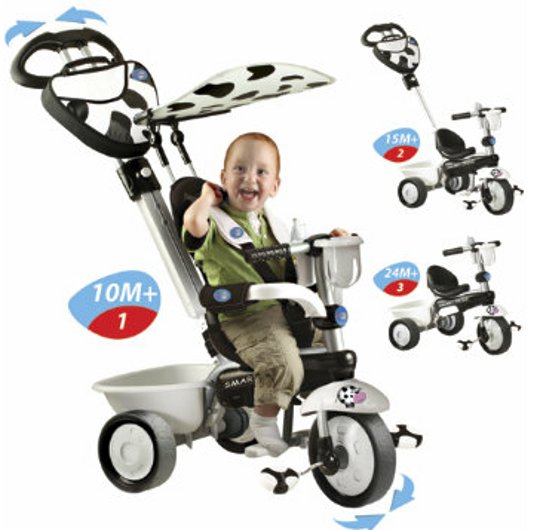 Mothercare has a great offer on the cow Smart Trike, with a £35 saving. They are charging £69.99 and delivery is free in the UK.
• Get around in super sleek style
We love our Smart Trike, although it's not a cow print like this one.
The Smart Trike is good for the duration of baby and toddlerhood and now my daughter is just about growing out of it – or just moving on to something else – we're able to put the baby in, if we want to.
If you're never seen or used one before, they're great. They have an adjustable telescopic parent handle to steer the baby, and detachable to allow independent steering. It's made of a sturdy metal construction, has a safety bar and belt, non-slip pedals and rubber wheels.
There's a UV canopy for sun protection, but we never got on with that as I couldn't see or hear my daughter with it on, so we took it off and never missed it.
The back is padded and the seat covered and there's even a foot rest for optimum comfort if you're not at the self-pedling phase.
Different Smart Trikes are suitable from different ages, and this one is good from around 10 months.
Thanks to goonertillidie at HUKD