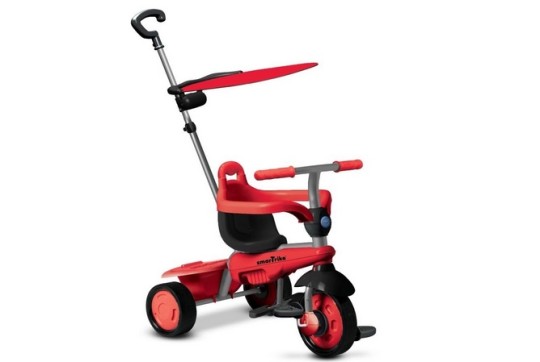 Amazon are currently selling the Carnival Smart Trike in red for just £26.84. We have a Smart Trike that cost well over £100, so I think this is a fantastic price, and I'd move fast to grab it - you know how Amazon likes to chop and change prices!
This version of the Smart Trike comes with a removable touch steering parent handle, which is great if kids want a bit of autonomy (like in the garden, say). There's  press-out clutch on the swivel wheel for freewheeling, or steering- I didn't realise this at first as was so annoyed that the kids could change our direction!
The wheels are dual component rubber too, so should make for a quieter, smoother ride.
There's a mudgaurd navigator button which lets you switch from parent Touch Steering to child ride-control - it sounds a lot more high tech than it is!
There are also removable hand rest protectors - ie. a safety bar you don't really need in older kids - and a removable canopy, and basket with a closing lid.
It's a brilliant buy, perfect for summer when a buggy is too heavy or too hot, and the kids just love it, in my experience!