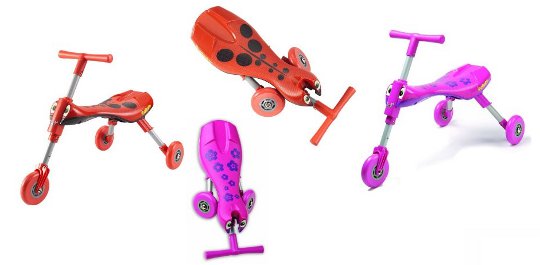 The red Beetle Scuttlebug and pink Flowerbug Scuttlebug from Mookie are £16.19 at Amazon at the moment, which is a 46% saving – or £13.80 – from the original £29.99, and of course, includes delivery. If you want it in time for Christmas though, you'll have to pay a bit extra.
Sarah wrote a review of the Mookie Scuttlebug back in the summer, and we bought one of the yellow ones – the Bee, I think – and even now in the winter it's regularly ridden indoors. I don't think a day passes where the Bee doesn't end up under my feet make an appearance at least once.
For whichever reason it's only the red and pink Scuttlebugs that are included in the offer, however, but apart from appearance they are identical.
These really are great little ride-ons. They're among the most compact for not-in-use-storage – seriously, I put ours in checked in luggage when we flew to South Africa in September and used it there and brought it back with us again. It's that light and compact.
It's highly recommended, so if you haven't tried it yet, this is a great price to take a chance on!