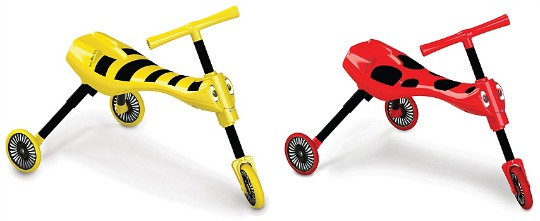 Asda have been adding more things to their toy sale again so you can now grab a Scuttlebug from just £14.50! There are two of them in the sale. The yellow one is £14.50 when you use the code TOY50 at the checkout, or the red one is £18.75. Seeing as these are normally around £30 these are both a great price, so get one while you can!
I managed to get the yellow Scuttlebug when it was last in the Asda sale and my youngest loves it. He has just turned 2 and it's exactly the right height for him to push himself around the house on. These are really lightweight and sturdy ride ons that are cleverly designed to be comfy for toddlers to ride, easy for them to 'scuttle' around on, with a front wheel that can be steered. There's no lights, sounds or buttons to play with, but for some reason it doesn't seem to matter and this is the most played with toy in our house right now (except the wooden train set, but nothing can beat that).
I love the fact that it can be folded really easily so that it takes up less storage space when it's not in use, and that the design means that the folding mechanism is safe. I really would recommend Scuttlebugs as a toddler ride on, and at less than £20 you are getting a bargain.
You can click and collect for free from Asda stores, or home delivery will add another £2.95 to your order.