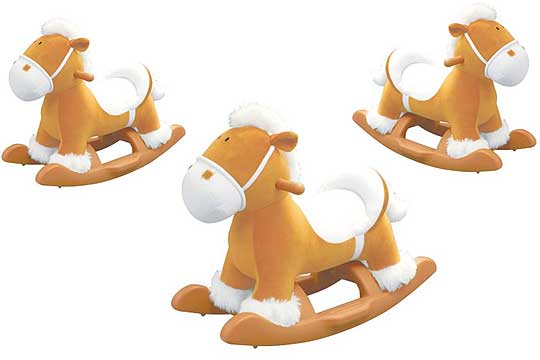 Asda are selling this My First Rocking Pony for £20, rather than its normal full price of £29.97.
Click HERE to take a look at the My First Rocking Pony *
I love rocking ride on toys - if I was small to get away with riding them still, you'd probably find me rocking away when I thought no one was watching.
I've yet to come across any child who doesn't like riding on toys like this My First Rocking Pony either; I'm particularly impressed with this one as his (he looks like a 'he') colouring is very gender neutral - no frilly pink manes HERE, thank you!
He's got a soft body, a comfy saddle to sit on and current owners have nothing but praise and effusive things to say about him...
"...It's soft and also very cute, we paid the same for a cheap piece of plastic pink tat from Argos (and it was a fisher-price one as-well :-O). Never again, if you want a rocking horse buy this one!"
And, "Just the Cutest Little Rocking House for my little boys 1st Christmas, just the right size (without taking over the whole living room) Such good quality and nice and soft."
You can arrange to collect your My First Rocking Pony, for free, from your local Asda store, or you can pay £2.95 for standard delivery and have him dropped off to your door within three to five working days.
Thanks to missgem at HUKD