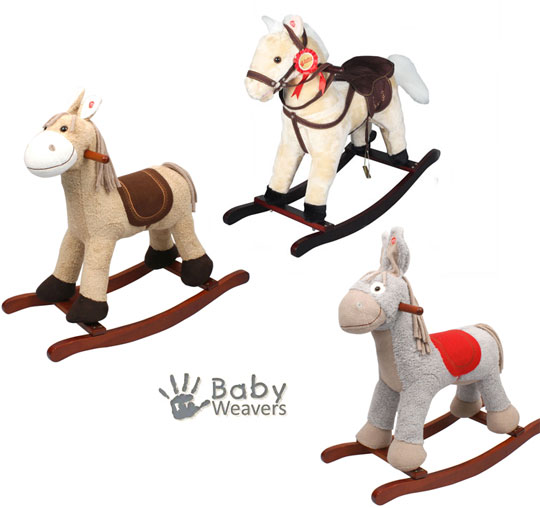 If you're in the market for a rocking horse then you need to gallop over to Kiddicare  (sorry, I'm in cheesy pun mode today!) and take a look at the rocking horses they've got on special offer.
Rocking horses are flippin' expensive you know! Even the cheapest of the cheap ones stray close to the £100 mark, let alone the insanely priced ones that sell for thousands of pounds - they have to be collectors items surely..?  I'd be rather reluctant to let the kids play on it for that sort of money!
I love anything to do with horses (they are my sanctuary) and have very fond memories of the two HUGE (in my memory at least) rocking horses that I used to ride when I went to nursery. I never had one at home though, as they were expensive creatures even back then in the 'old days'.
REJOICE, then, at the fab price of these rocking horses over at Kiddicare: their original prices were £89.99, but now they're either £21.99 or £25.99 - it all depends on which colour and 'breed' you buy.  You can go for the traditional look, or choose a more modern type, or even 'Daniel the Donkey' - who I think is rather cute!
Neither of them fall into the free delivery on all orders over £29.99 category - if there's something else you need then you could always tip your order over that amount, otherwise you'll need to pay for delivery.
Thanks to gerrymig at HUKD