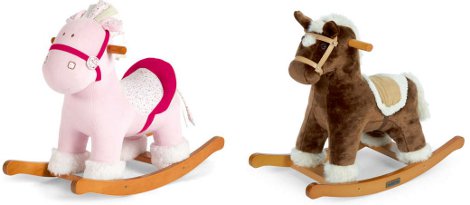 There's 36% off these two lovely rocking horses at Mamas And Papas, meaning each would cost you £45 instead of £70 in this web exclusive offer.
My daughter had a rocking horse given to her when we went to South Africa last year, and she adored it. She literally rocked it around the tiled floors of the open plan kitchen/living room/dining room. Unfortunately when we left it was just too big to bring back with us, even though we tried disassembling it and getting it its own suitcase.
These are a little smaller, but just as lovely.
There's Topaz, suitable from around 12 months, a soft velour horse with a stylish sheepskin effect saddle. He has a solid wood frame and handgrips for added support, and if you press his ear, he makes horse sounds – neighing and galloping, I guess.
Topaz comes with an easy to pack away reusable bag, and requires 2xAA batteries (for the horsey sounds – but from experience I can tell you that he's as much fun without the sounds.)
There's also Pollyanna, who is a little smaller, making her suitable from 9 months old. Pollyanna comes with crinkle fabric, rattles and squeakers in her ears. The reviewers love Pollyanna and give her five stars (out of five!)