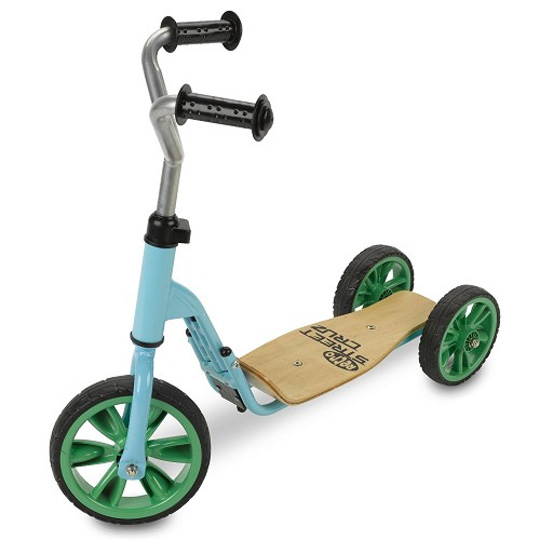 QUICK!  The Works are selling this Retro Street Cruz scooter for £19.99 instead of £39.99 and there aren't too many left.
I'm not surprised there aren't many of these Retro Street Cruz scooters left, they are FAB!
I've never been a fan of the stainless steel, spindly looking, small wheeled, straight up and across bars of the micro scooters - they are soulless and boring to look at.
But this Retro Street Cruz scooter with it's wonderful curves, fabulous colour, large wooden foot board and chunky wheels is just a delight to look at and probably just as lovely to scoot on.
I also like the idea of standing out from the scooter crowd too; scooting along to school or nursery with a bit of flair and style rather than blending in with the masses - marvellous!
The approximate sizes are: height 60cm, width, 42cm with handlebars (20cm without) and length is 75cm and it's suitable for young retro scooters aged three years and over.
One more thing - if you add the code SCHOOL to your basket before you check out, you'll bag yourself free delivery too.  Now hurry up and get over to The Works before all the Retro Street Cruz scooters have cruised off the shelves!
Thanks to Syzable at HUKD