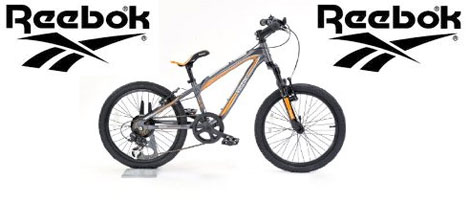 Amazon are selling this Reebok Boys Pilot Bike for £99.99 instead of £299.00.
I know that £99.99 is still a lot of money BUT this can be one of those big presents where a few members of the family club together for a birthday or, dare I say it, CHRISTMAS!
There! I've said the C word again!
I don't care that it's only July, Christmas time is expensive and if you're smart you'll get organised and spread the cost of it over the year by buying things well in advance.
Not only will you save yourself the pain of trying to fund additional Christmas things alongside your usual monthly expenses, but you can stay indoors, in the warm, whilst the lesser organised mortals are doing battle on the high street.
Back to the Reebok Boys Pilot bike...
It's nice and light at just 14kgs and has 20 inch wheels.
It features Reebok Zoom front suspension and 7-speed Shimano gears along with Shimano alloy brake levers and power alloy Vee brakes.
The frame size is 11 inches and is going to be suitable for someone who's way past the stabilisers phase and wants a serious 'big boy' bike.
Thanks to timtom13 at HUKD