Up To Half Price Off Selected Bikes & Helmets: Items From £4.50 @ Tesco Direct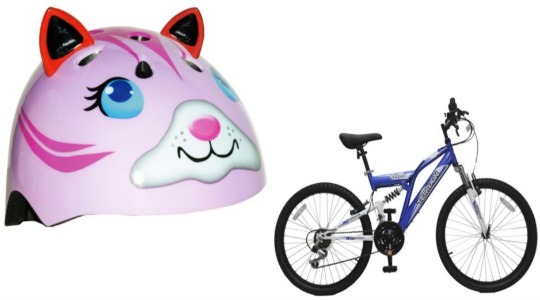 The summer is the best time to teach little ones how to ride a bike. Even if they already know you may be on the lookout for a new bike or helmet. If you are then today is your lucky day as Tesco Direct have up to Half Price off of Selected Bikes and Helmets. There are some fancy one too and some that feature some children's favourite character. Items start from just £4.50, so I would get in there fast.
If you are looking for a Bike Helmet for a small child then these are suitable: One Direction* was £12 now only £4.50, Thomas and Friends Helmet* was £13.50 now £6.75, Peppa Pig Kids Helmet* was £15 to £7.50 and Marvel Spider-Man Helmet* was £15 now £7.50.
Bikes start at just £30 for something like this Doc McStuffins with Stabilisers Bike* or this Fireman Sam Bike*. For £40, you can get something for an older child: Terrain Turbo Mountain Bike*.
You can Click and Collect any of the reduced Bikes and Helmets for FREE from an Tesco store or pay just £3 and you can have it delivered to your home.