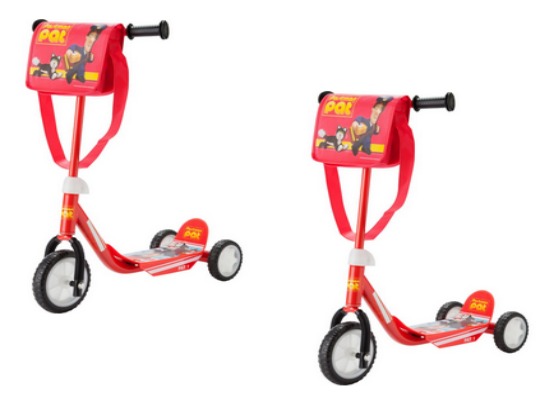 My kids drive me nuts as they skid about on their scooters. They have so much fun though and who I am to prevent that? They got their first scooters at quite a young age then have upgraded to bigger ones. This lovely Postman Pat Tri-Scooter with Postal Set is just £10.99 from Argos. It has an original price tag of £22.99.
The Postman Pat Tri-Scooter has three wheels instead of two to prevent any tipping and aids balancing. This scooter is really aimed at little ones that has never has one before. It features an anti-slip footplate and easy grip handles.
With adjustable handlebars this Postman Pat Scooter is suitable for children of different heights. It's suggested for children aged three and above although if I am completely honest, mine got something similar to this one at two. The Postman Pat theme would suit a younger child, I can't see a six year old wanting PP but I may be wrong.
It comes with a nifty postbag attached to the front.
Reserve and Collect your Postman Pat Tri-Scooter with Postal Set from Argos for FREE or pay £3.95 for home delivery.
Thanks to nikki3962 @ HUKD