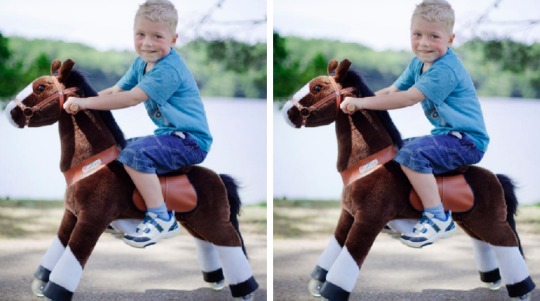 This is the coolest Ride-On Toy EVER! The Pony Cycle Ride-On Pony is like nothing else I have ever seen. You may look at the photo above and think it's just a fluffy horse toy but you need to see this in action. It looks like you are actually riding a horse when you are on this awesome Ride-On Toy. It's available from Amazon at £169.99 which may seem expensive but not when you see how cool this actually is. Buy it from Smyths and use promo code SMYOCT12 at the checkout and get it for just £157.99. This code expires at Midnight tonight, so will be the same price as Amazon come tomorrow.
The Pony Cycle Ride-On Pony can only be used on flat ground. This will burn off any excess energy your little one has. It isn't battery operated and requires your child to ride it in a similar way to a real horse, well kind of. That's as best as I can describe it.
It's suitable for children aged four to nine years old. Apparently, you can get adult sized ones too for us parents that want join in on the fun, but I can't find them for sale in the UK. I live in hope that they will be available soon.
If your child has always wanted a pony then this is the cheaper alternative and much less maintenance is required.
If buying from Smyths, you can only collect it from your local store, as it's unavailable for home delivery at the moment. Delivery is FREE when buying from Amazon.