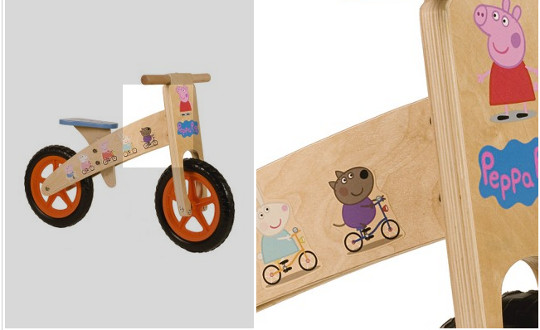 Woolworths.co.uk have a £15 off offer on Peppa Pig Wooden Balance Bikes, which they are now selling for £35.
I've never actually bought anything from Woolworths since they went online only, but I do quite miss the highstreet shops - they were always so good for photo frames and accessories.
Never the less, they also do a good deal on a wooden balance bike, and in this case a Peppa Pig themed one. I'm sure that would be a hit with many a little one!  Balance bikes are supposed to help children learn to get on without balance wheels, thereby helping them to get on without them much sooner. It makes sense, but I must admit my little girl is suddenly petrified of it - perhaps because I let her ride indoors once and she fell off quite promptly. She wasn't a happy camper after that.
This bike is suitable from age 3 up and is not intended for use in traffic, and protective gear should be worn.
Thanks to chesterdraws from HUKD