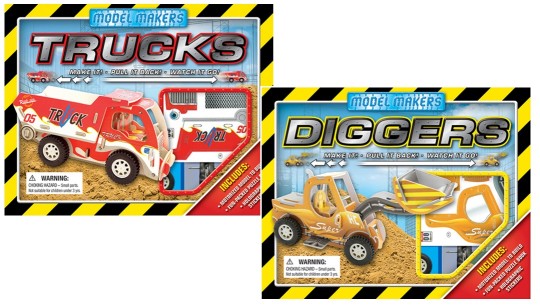 ASDA is selling Model Makers Trucks and Diggers for £1 each. There's good and bad here though, so read on.
The good is that these are a brilliant price. At £1, they're substantially less than elsewhere - for example Amazon, where they are £6.97.  Delivery is free from ASDA though, or you can collect in store too.
The bad here is that ASDA have the Model Makers Trucks and Diggers both, but the labels and pictures are the wrong way around so when you order the truck you may or may not get the truck, or the digger, or if you order the digger you may or may not get the truck. I guess the best option here is to order one of each, and return the one you don't want, or gift it to someone else, or save it for later. At the price it's worth the gamble.
The model kits come with everything you'll need, I believe, and you can build the motorized model, then have fun with puzzles and games. There's no need for glue, and with simple step-by-step instructions, you will enjoy hours of model-making fun.