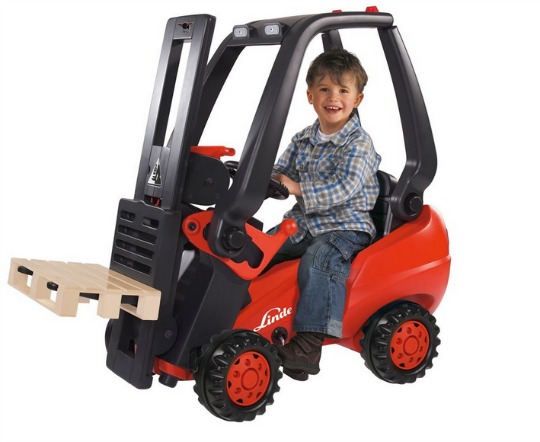 I've seen so many amazing ride-on toys since I started working for PlayPennies, and things like this ride-on Forklift Truck I had no idea even existed. Isn't it cool? It's selling for £189.99 at Smyths Toys, and although that is a lot of money, it's more than £50 cheaper than the competitors.
This is a working forklift truck, but it is moved by pedal power rather than a battery, and there is a safety clutch if the fork is overloaded (we were all wondering about the kids attempting to lift the sleeping dog or the car weren't we?) Here's how they describe it's functions on the Smyths' website:
Your little one will love the feeling of driving around in a fully working toy Forklift.The functions of the children's fork lift truck make it particularly realistic to play with.With a lifting mechanism that can be adjusted to various heights and the supplied pallet. Children can transport and store all manner of things to their heart's content. All their lifting and carrying is helped by the high quality specification, with precision chain drive axle pivot steering and trailer coupling to the rear. The driver's cabin is removable and the seat can be locked into place without the use of tools.
Doesn't that sound good! The reviews are all really great, and it looks like nothing else I have seen. The only drawback I can see it that you need a fairly big garden to use this, but that goes for all these big ride-on toys, and I had a nice big garden I'd be filling it with toys like this if I could!
There's no delivery charge to add to this Linde Forklift Truck Ride-On as it's above the minimum spend for free UK delivery, and they do sell it in stores as well, if you have a big car as well as a big garden!