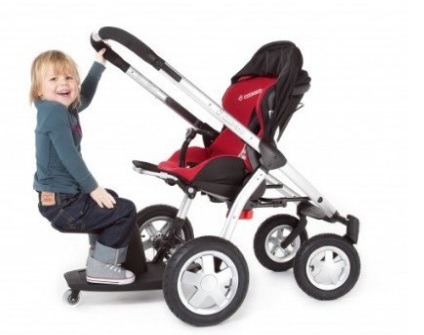 I'm in two minds over this here Kid-Sit buggy board. I can imagine that it would save a lot of moaning and whining after a long and tiring day at school while mum's having a chinwag at the school gates... but it's a lot of money to pay for something to sit on! At the same time,  a regular buggy board can cost you £40 - £60 at Tesco, so it's not that big a jump for something that can bring a little peace your way. Either way, the usually £99 Kid-Sit is currently at the best price it's been - I've been keeping an eye on it! - and is now £79.
If you're an Amazon Family member - you get free membership with Amazon prime - you can take £15 off when you spend £60 in the baby store, so this should reduce down to £64, which makes marginally more than the more expensive standing buggy boards at supermarkets.
I've been uhming and ahing over this contraption since I first saw it in the spring... I can see it being so useful. But then I don't use a buggy, so maybe I'm missing something. What do you think?