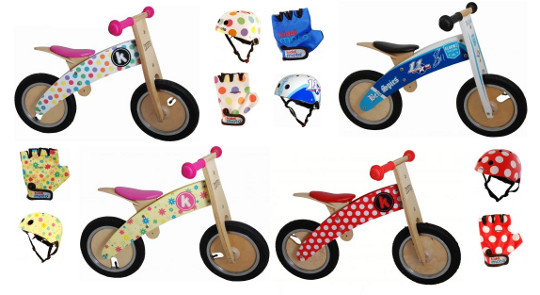 I remember the first time I wrote a deal about balance bikes. I thought the fact that it had no wheels meant it was for older kids, rather than a starter bike. A commenter quickly pointed out the error of my ways and I've been intrigued by them ever since.
The first time we put my 2.5 year old on a Kiddimoto (£59.99), she was pretty scared of it. Her feet just almost touched the ground and she didn't have the balance to use it. She got off, and pushed the bicycle up and down the living room for ten minutes before abandoning it for other toys.
A few days later we had some sunshine, so I took her to the park with it, where she stayed on, but standing and shuffled along still essentially pushing the bike, but straddling it. I decided to put the Kiddimoto balance bike away for a few weeks and try again later.
About a month passed and the next time she got on it, her feet touched the ground. (How does that happen so fast!!) She still didn't really have the confidence to just take off, but still shuffled along, but this time with her backside on the bicycle seat. She has a go on it every few days now, but she still just 'walks' along rather than actually putting foot power behind her and going for it - I guess she has the same pain aversion I do!
At the park one day, we loaned it to a friend of ours with a daughter a year older, and her first attempt was much more successful. She also tried one foot at a time for a little while, then trying to keep up with an older sibling on a bicycle, she seemed to forget for a while and was propelling herself along really well, and keeping up quite nicely. She returned to our picnic blanket about fifteen minutes later saying her legs were tired and she needed a snack, but she had thoroughly enjoyed it. My friend has since bought an identical balance bike for her daughter.
The design is really pretty, with pastel dots on the one we have, but there are others too - from flags, to flowers and cherries and even emergency services themed bikes. The hand grips are sculpted with large 'ends' so they're not likely to slip off.  The seat can be adjusted to three heights, giving extended life to the balance bike and the upright riding position is similar to that of a bicycle, so there wont be any problems going from that to a traditional bike.
One of the things I do like about this bike is the fact that it has a 30 degree only steering lock, so the bike will never jack-knife on itself. Also, the pneumatic tyres mean you're not going to be carrying it after endless punctures, which is always a bonus.
You can buy matching accessories - helmets (£24.99) or gloves (£7.99) -  for each bike too, or you can mix and match. We have the red and white polka dot bike helmet which has 11 vents to keep little heads cool, a rear adjustment wheel to ensure a close fit, and a lightweight inner shell with foam pads for comfort. There's also an adjustable strap and a quick release buckle.
The Kiddimoto Balance Bike has been tested to meet all safety standards and all the parts are non-toxic. The bike comes with a one year guarantee, and it comes with a very high recommendation from the audience that really matters: the three year old!