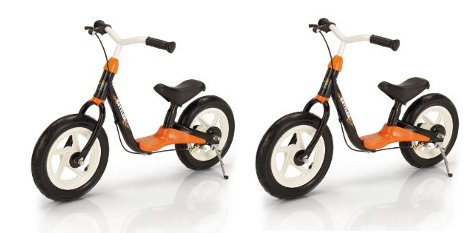 There's 30% off the Sprint Air Rocket Balance Bike from Kettler, at Amazon, making it £48.90 instead of £69.99.
This brand new bike from Kettler is hot off the production line. It's apparently and ideal balance bike for beginners, and the saddle has been ergonically designed by a child physiotherapist to ensure optimum comfort and safety.
It has a stand for keeping the bike steady and upright in either storage, or when not in use. The steering has an unlimited turning radius, (but I'm not sure how the break cable will feel about that eventually!)
The handbrake is also meant to 'ensure high levels of safety', but I'd say it just means 'regulate speed'.
The box contains a frame and two wheels,  and the bike weighs around 6kg.  The whole gizmo is suitable for children aged 2 – 3  years.