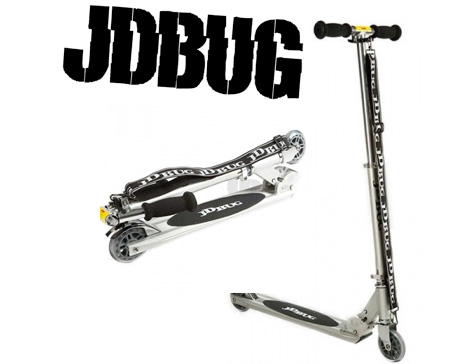 ExtremePie are selling this JD Bug original scooter for £31.50 instead of £50.
Tamsin has called me Pie for years (that's one of the more polite names she has for me) so anything with the name Pie in it tends to catch my eye, hence this scooter post.
£35 for an in-line scooter might seem a bit much, but this one is virtually indestructible as it's made from Aircraft Grade Aluminium for super strength.
This can only be a good thing if you have a young scooter like my youngest; scooters are for scooting, yes, by they're also for trying to do BMX bike tricks on! Trust me when I say that Ben 10 and Spongebob scooters tend not to stand up well to this level of abuse!
The JD Bug scooter has a single action folding/unfolding mechanism along with a rear wheel guard and brake.
If you're worried about little fingers getting trapped the JD Bug scooter is, apparently, the safest folding scooter available in the UK having passed the following safety tests:- 1) GS mark, by TUV Germany. 2) CATRA Product Metallurgical Test. 3) STR Product Safety Test. 4) STR Entrapment Hazard Test.
Standard delivery is free from ExtremePie and you'll notice that the published price for this JD Bug scooter is £35; enter FIRSTORDER10 into the promotion code box in your basket and it will come down to £31.50; marvellous.
Thanks to tracy2756 at HUKD