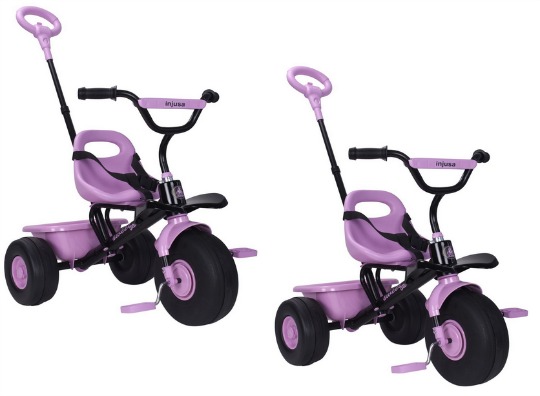 The Injusa Sweet Trike is like those Smart Trikes you see everywhere. This one has an RRP of £89.99 and has sold out at £55 from Tesco Direct. Buy it from Amazon and you can get the pink coloured one for just £27.98 with FREE delivery included. This makes that 'big' birthday present very affordable indeed. It's suitable for children aged one and above so it would make a great first birthday gift.
With a Parent Handle included the Injusa Sweet Trike is a great way of making your child feel independent but whilst you are in full control. You see lots of trikes like this around for good reason...kids love them. They don't moan about being in them like they do in strollers. How annoying is it when your little one goes ridged and refuses point blank to go back into their buggy?
There's a little storage basket so teddy or whatever else can come along for the ride. Your child is fastened in securely with a seatbelt so you don't have to worry about them falling out.
What I like is that it's made from a sturdy metal frame so you know it's going to last.