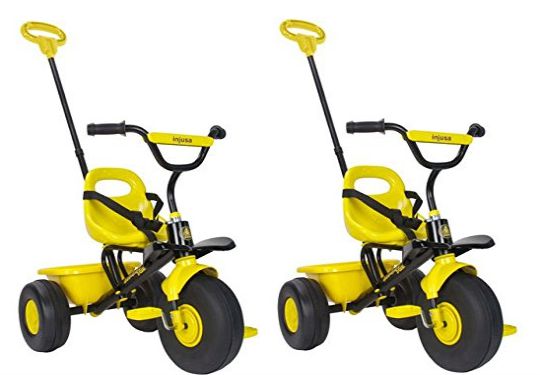 Wow, wow and more wow! This is the CHEAPEST we have seen this Injusa Sweet Trike. If you are looking for a Trike with a parent handle then look no further. You can get this one for just £24.17 at Amazon and that includes FREE delivery. Go over to Tesco Direct and you will see that they are selling this very same Trike for £55. I can tell you these were nearer £80 when they first came out, because I nearly bought one.
The Injusa Sweet Trike would make an ideal BIG birthday present or Christmas gift. At this price you are saving yourself £££'s so even if you think it's way too early to start festive season shopping, you might change your mind for this.
This Trike has a sturdy metal frame and big chunky wheels to prevent any tipping. There's a safety belt to ensure your little one can't escape or fall out. The parent handle is great as your little one feels like they have the freedom to ride but really, you have the control. This can be removed if need be.
It's suitable for children aged one years old and above.