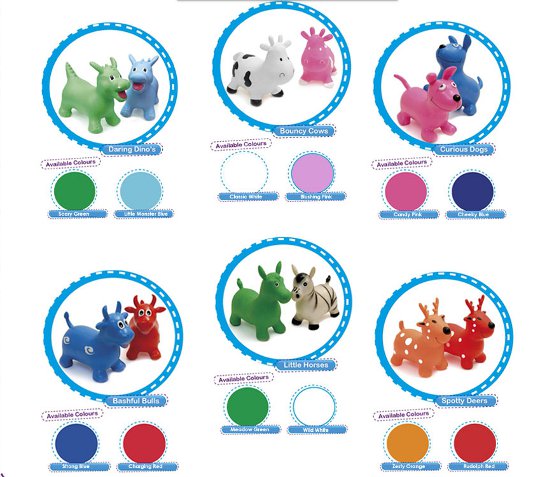 HappyHopperz have offered PlayPennies readers 20% off on their fabulous bouncy toy range.
Hop, hop, hop on a HappyHopperz toy
Discount: 20%
Expires: 14 February 2012
Valid on: Everything
Discount Code: PLAYPENNIES12
HappyHopperz are a throwback to the space hoppers of the 70's, but perfectly suited for children. They are made with ears and horns so little ones can grip on to and they are small enough that feet remain steady on the ground.
Around Christmas time the 'new and improved' HappyHopperz were launched – they're now suitable for children as young as 12 months.
Sarah wrote a HappyHopperz review way back in the early PlayPennies days and I've seen kids on these in playgroups – they do about go wild for them!
HappyHopperz ca be used indoors and outdoors and can be used in small spaces too. They are inflatable, so technically you should be able to take them on holiday with you too, should you want to!
The HappyHopperz cost £21.99 plus £5.99 P&P, but with the offer you'll be paying £17.59 plus £5.99, so you're still saving £4.40.