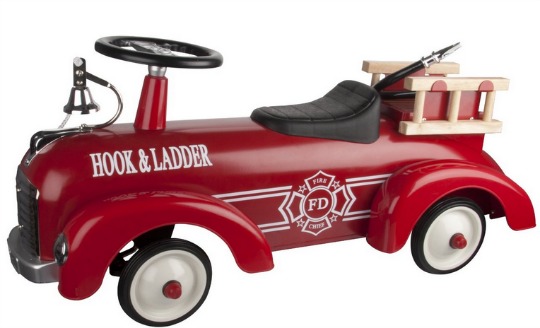 The Great Gizmos Fire Engine Speedster Ride On is seriously one of the coolest kiddies toys I have ever seen. Look at it! Talk about awesome. My friend asked me to keep an eye out for her son for anything to do with Fire Engines and I came across this beauty. I honestly expected it to be over £100 but it's not. Buy it from Amazon Seller: Toypost and you can get it for just £51 with FREE delivery included. To get it at this price just look to the right hand side once you click the link below.
What really caught my eye with the Great Gizmos Fire Engine Speedster Ride On is that it is made from steel. This has such a classic look to it, that I think most people will love it. It even has a real working bell and a wooden ladder detail to the back.
It has a four and a half star rating on Amazon and the reviews suggest that this is a well put together toy that is a hit with all children that have played with it.
This ride on is aimed at children aged one to three years old and I must admit the fact that it's steel would put me off buying it for a one year old, had I not read the reviews.