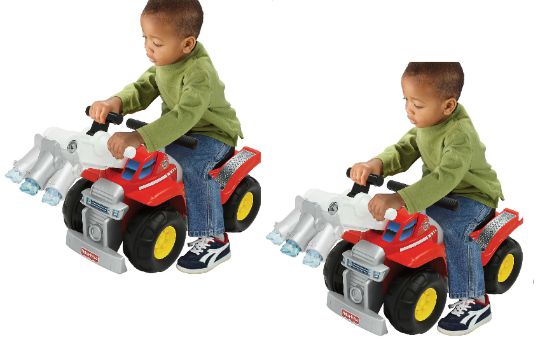 What's better than a ride on digger? A ride on fire engine, that's what! Amazon have the Fisher Price Big Action Fire Truck for just £21 delivered. This would make an affordable BIG present for a birthday or that festive celebration at the end of the year. This is a nice toy that will have any little one grinning from ear to ear, guaranteed.
The Fisher Price Big Action Fire Truck features an extending fire hose, flashing blue lights and a distinctive siren. The wheels are big and chunky to ensure that the risk of toppling over is minimal.
There's even under seat storage so that your little one can trail along their favourite teddy bear or doll.
Fire Engines are one of those things that kids get obsessed with. I LOVED them as a child and each one of my boys go wild for them. That's why a toy like this is a safe bet even when buying for someone's else little one.
This Big Action Fire Truck is suitable for children aged one year old and above. Perhaps you have a niece or nephew who is one soon? This would make a tremendous gift for them on that special day.