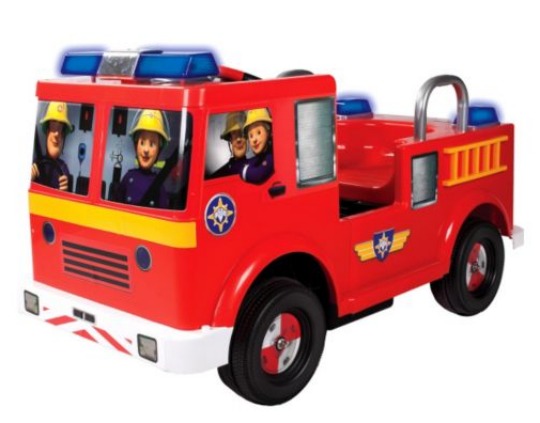 This is very impressive. Who knew you could get a battery operated Fireman Sam's Fire Engine? Boots.com have this half price at the moment for £125. I have looked and looked and cannot see this anywhere online for anywhere near as this price. Amazon have it for £187 and Argos for £199.
My younger boys would go daft for this. The lights flash and the siren sounds as your little one presses the foot pedal to go forward. Your child can press buttons to play the Fireman Sam theme tune or to sound out phrases from the famous TV programme.  It goes a safe, maximum speed of 4kph so don't fret, your darling child won't be racing any real fire engines in this.
It has the capability to go forward and backwards. It is powered by a 12v battery that lasts between an hour and an hour and a half when fully charged. The charger is included, so there's no extra cost there. It takes eight hours to charge the battery to it's full capacity.
This toy is suitable for age three and above and can bear a maximum weight of 45kg.
This is with no doubt a big purchase even at this price, but you may just have a birthday coming up or you might think you son or daughter will be thrilled to get this for Christmas.
Delivery is free on this but if you would prefer you can opt to collect from your local Boots store.