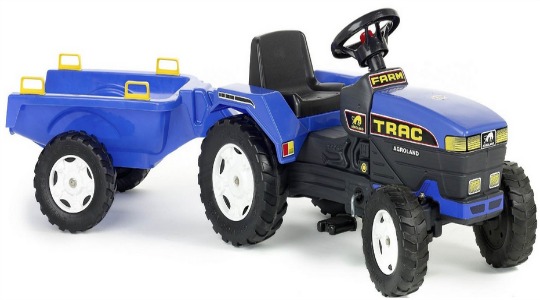 This Falk Ride-On Tractor and Trailer is a must for any little one. They can play the farmer as they scoot around your back garden on this. If you are looking for a big birthday present for a special someone then you MUST check this out! The Falk Ride-On Tractor and Trailer sells elsewhere for around the £100 mark, get over to Amazon and it's yours for just £33.02 with FREE Super Saver Delivery.
We have all been through the I want to ride on a tractor phase at some point of our lives. This ride-on Tractor is greatly detailed to look like the real thing and I'd say they have succeeded.
It's suitable for children over two years old and think of the fun a toddler would have on one of these. The trailer is just the cherry on the top. It can actually be used to cart things about like sand or stones. The more I read about this cool Tractor ride-on, the more I want one.
It's steerable with use of the steering wheel (some ride-ons are not) and even has a working horn which is perfect for your child to move you or the dog out of the road.