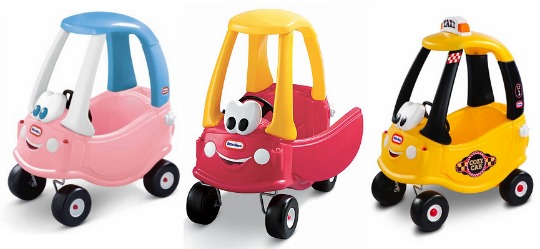 Debenhams have an active 10% off code that I've been trying out, and it works on some sale items. The Little Tikes Cozy Coupe Cars are reduced down to £38.50 in five different designs, and when you enter the code KH93 the price comes down to £34.65 with free delivery! That's the cheapest around at the moment for these hugely popular toys.
It's normally only the basic Classic Cozy Coupe that you can get for around £35 when there are offers on, but Debenhams have another four types as well as the classic at this price. You can choose from the 'Girls' Pink Car, the Yellow Cab, the Black Cab and the 'Royal' Red, White and Blue one.
All are above the threshold of £30, so they will get standard UK delivery for free. Remember to enter the code KH93 to get the price down to £34.65, and the 10% off code finishes on 17th April.