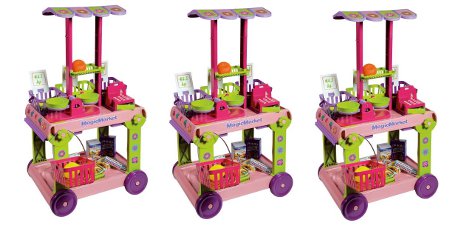 There's 50% off the children's role play market  stall at The Hut. Down from £39.99 to £19.99, there's a fab £20 saving.
My daughter's really getting into role play at the moment – she loves her play food and kitchen, and pours us copious amounts of tea (we don't really even drink tea, so not sure where she  got that from!) from her lovely tea set. This market stall at half price is a great little toy, I think, but annoyingly, apart  from '30 plus accessories' there's not much info about it at all. There are also no reviews available on it either.
Looking at the pictures though, it comes with fruit baskets, price tags, a few bits of fruit and a couple of other boxes of market-ish stuff. There's a till and scales, and the stall is actually a trolley on wheels, so both you and your kidlet can move it around as needed.
The description says it's suitable for children aged 3 and over, and there's free delivery too.