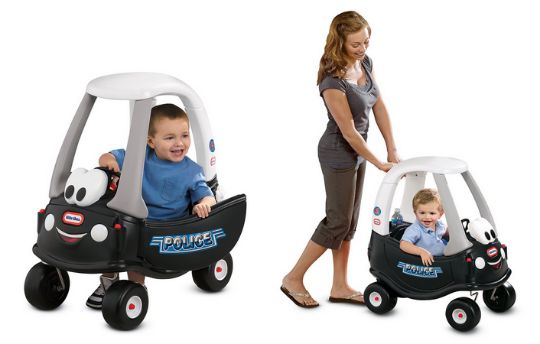 You know by now that we are big fans of Little Tikes toys here at Playpennies, as they quite rightly have such a great reputation for quality. The Cozy Coupe range are fantastic ride-on cars that have been best sellers for more than 30 years, so when an offer comes up on one of these we shout about it.
Today Amazon have dropped the price of the Cozy Coupe Patrol Car by a big 30%, taking it down to £37.75! The original cozy coupe doesn't usually get much lower than that price on special offers, and this is just about the best price I have seen for the Patrol Car. I can't see one cheaper than £47 with delivery so this is nearly £10 cheaper than anywhere else.
Amazon handily tell us in big capital letters in the description that this is not the edition of the police car with the siren and walkie talkie sound features, but if you're happy without those then this is a great price.
This sturdy play car has a removable floor and a handle on back for parent-controlled push rides, until they are ready to push it around with their feet Flintstones style. It's also got an "ignition switch" and an open-and-close petrol cap, plus storage in the back.
If you fancy going the whole hog and adding personalised licence plates you can get those for just £2.29 delivered here.
This offer for the Cozy Coupe Patrol Car has just started today at Amazon, but with something as popular as this I would expect it to go in and out of stock whilst the offer is on. Home delivery is also free for all customers.