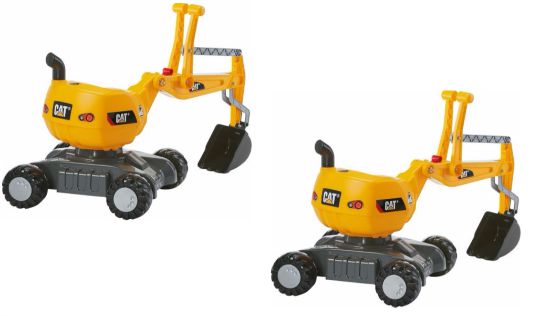 The coolest toy you can ever own as a child is a digger. I used to go to a park when I was little that had one and there was always a queue to get on it. The Caterpillar Mobile 360 Degree Excavator sells for £65.99 at Argos and £69.99 from Toys R Us. Get it from Very and it'll cost you only £58. Bargain alert!
The Caterpillar Mobile 360 Degree Excavator is for your child to sit on and dig up your garden. If you have a floor level sand pit then you can have the kids dig in that.
The beauty of this sit on toy is that it has the ability to turn 360 degrees, which means your little one can dig, swivel and dump the soil or sand with the digger mechanism. It aslo has a locking arm device.
This is ideal for any little one over the age of three years and is a nice gift for those children that have everything.
You can use Collect+, which is FREE to pick up your Caterpillar Mobile 360 Degree Excavator from a shop near you or pay £3.95 t have it delivered to your home.