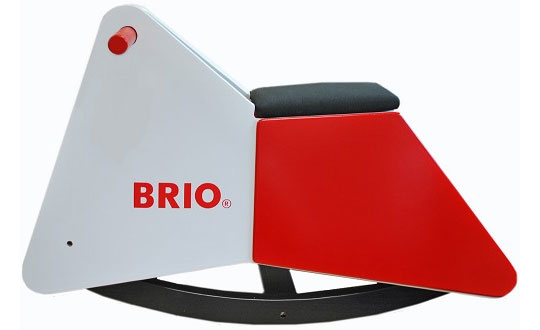 Toys R Us Online are selling this Brio Rock-On Rocker for £7.79, rather than £12.99 (last year, The Works claimed this had an rrp of £49.99!).
If you are a fan of the more abstract type of toy, then this Brio Rock-On Rocker may just be the alternative 'rocking horse'  you've been looking for.  If you want something with eyes, a mane, legs and a tail, that makes 'realistic' horsey noises too, then you're out of luck - this most definitely will not be for you.
I have to say...I rather like it!  It's quirky and different and I'm all for that sometimes.  I know I absolutely wouldn't part with too much money for it, but £7.79 seems reasonable enough.
It's made from wood (LOVE wooden toys!) and the seat is fabric covered.  There are a few reviews which 'tell it how it is' - there are plenty of positive points made, with a few others that you will want to watch out for:
Good value for money and a very sturdy construction. The only criticism is that there is nowhere for them to rest their feet. Hence the feet could get trapped under the rocker

We have a variety of BRIO products and are never disappointed by the quality. This is no exception. We purchased this as a gift for our 8 mo. old nephew. He needs supervision/some assistance at this age to use it, but we anticipate he will be able to sit on it independently and rock it himself within the next few months.

The rocker came assembled, and it is very sturdy. The only "negative" comment we've heard about it is whether or not it would be better if it had a place for children to rest their feet whilst rocking.

This is a great quality rocker from Brio! I am so impressed with this especially for the cost
The Brio Rock-On Rocker is suitable for young abstract riders aged 12 months or over, and you're going to have to add on an additional £4.95 for delivery as it's not available to collect.
Thanks to goonertillidie at HUKD