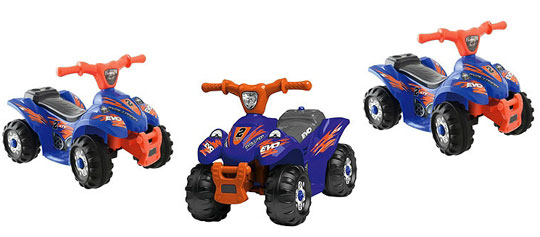 Tesco are selling this blue Evo 6v ride-on quad bike for £30, rather than £50.
VROOM!!! VROOOOOMMM!!! *screeching of tyres*!!!! Ohhh, okay, so maybe this little 6v electric quad bike won't go VROOM VROOM and you won't be able to make the tyres screech either, but you can pretend.
What it will do is bring hours of quad bike happiness to the young lad in your family, and be the envy of the street as far as ride-on toys go.
It has a maximum speed of 3kph - which is 1.86mph in old money - and you can go zooming around on its big chunky wheels.  It has easy to use handlebar steering for simple control, an orange and blue paint job and some great reviews:
This quad bike was very cheap to purchase so we wondered about its durability. However it turned out to be strong and sturdy, easy to operate and most importantly, great fun for the kids.

Battery life is brilliant, and it has withstood some heavy use. It can ride 2 small kids (not recommended I am sure!!) It comes with a sticker set which the kids will love applying, but it is worth noting that some assembly is required which was not 100% straightforward - but manageable.

One slight drawback, the tyres are hard and do not grip that well on a wooden floor so you will see some wheel spin [maybe you'll get to screech those tyres after all!] Overall this is a great value product and we love it.
Free collection from your local Tesco is available, and so is home delivery for a few extra pounds.
Thanks to DealOrNoDeals at HUKD