80% Off No Fear Skateboards and 70% On Scooters @ Sports Direct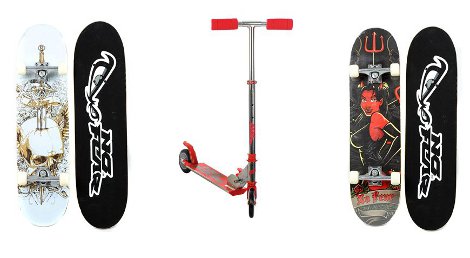 Sports Direct have a fantastic sale on some of their sporting equipment at the moment. No Fear Skateboards for £5.00 down from £24.99, making it an 80% saving, and £8.00 for a Micro Scooter, down from £24.99, a 70% saving.
My first kiss was a boy called Rudy. He had a skateboard and torn jeans and I thought he as incredibly cool – although possibly not a great skater, if his jeans were all ripped! But he was cute, even if that's just a faded memory!
So now I've recovered from that little wander down memory lane, I can tell you about the deal.
There are four styles of No Fear skateboards. They have 31 x 8 inch chinese maple decks, and an aluminium truck and base, with 608z bearings and 50 x 36mm PVC wheels. And yes, I'm going to pretend I have a clue what any of that meant!
The scooter is child sized with a lightweight and durable construction for increased speed and manoeuvrability and a rear friction footbrake should you need to stop safely. This scooter has an easily foldable frame, perfect for transport and an adjustable handlebar to suit your riding pose.
Oh, and in case you're not that big on sports with injury risk, Sports Direct also have a few Slazenger racquets and Umbro bits on offer.
Postage is an additional £3.99, but it's still a huge bargain!
Thanks to Mysteron at HUKD