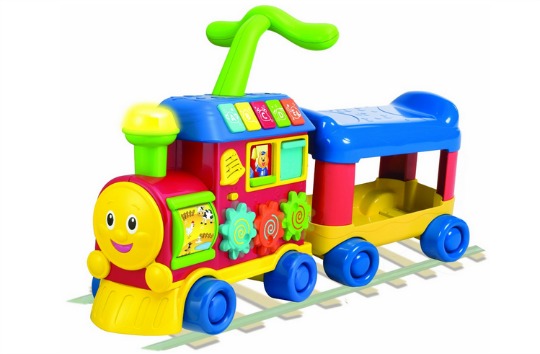 This toy looks pretty fantastic, it's half price in the the sale at Very, and this weekend there's free delivery too! This means that instead of the £40 it was originally, it's £20 delivered! The next cheapest I can find is £24.99 and that's before delivery charges, so I think this is a really good price.
Although the picture on the Very website doesn't show it, the toy has loads of learning activities, sounds and music. It can be used as a floor play toy, then as a walker using the engine piece, then the carriage can be added turning it into a ride-on.
It's suitable from 12 months to around 3 years, and needs 3 AA batteries for the lights and sounds. The reviews are all really positive, and this one is my favourite:
He goes around the house saying choo choo and it's driving my daughter mad. The best money I ever spent.
To get the free delivery you need to add the code 6CTCR, and that will give you free standard UK delivery all weekend with no minimum spend. You can find that and other Very Promotional Codes over in our voucher section.