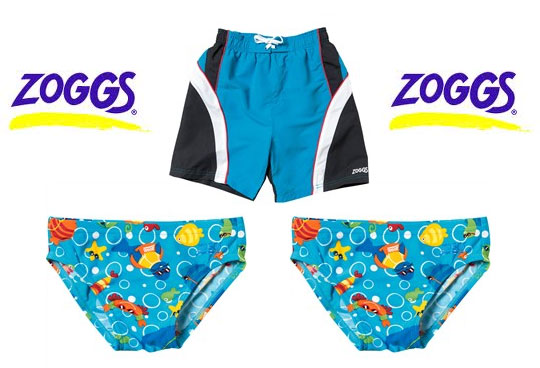 My youngest son's name is Edward, he is six years old and routinely makes me laugh.  The other week he asked me whether I had anything coming in the post soon that I needed him to review for me.  He was rather excited when I told him that there were some Zoggs swimming trunks and board shorts arriving soon that he could road test for me.
"Road test!?" he queried.  "Mum, you can't test swimming trunks on the road! You need to test swimming trunks and shorts IN the sea or a swimming pool!!"  A future in comedy beckons, methinks!
I've always associated Zoggs with swimming goggles; I think I knew they did trunks and swimming costumes too, but I've never paid any attention to them at all, so I was rather interested to see whether their other swimming gear was of the same high quality as their goggles.
The Zoggs swimming trunks and board shorts duly arrived from M and M Direct - the boys Zoggy racer trunks were turquoise blue and featured pictures of crabs, seals and fish all wearing sunglasses; the Zoggs Junior Noosa board shorts featured different coloured blue panels.
Zogs Zoggy Racer Trunks
You can think you know your children well, but there will always be times when they'll prove you wrong!  I was convinced that Edward wouldn't like the Zoggs Zoggy racer trunks; I would have put money on him saying, "URGH! I'm not wearing those!  They're too babyish for me!" 
But he didn't! In fact, it was the Zoggs Junior Noosa board shorts that got knocked back - but more about those later.
The Zoggs Zoggy racer trunks come in year group sizes between one and six; they are nice and soft and feel robust - not thick, as such, but substantial rather than thin and flimsy.
They have a 100% soft polyester lining to them and the outer material is an 80/20 blend of polyamide and lycra; they're chlorine resistant too and can be washed at 30C.
Edward has worn them swimming (he's quite the water baby - oooh I can hear him now, "I'm NOT a baby!") and his verdict is as follows:
"I really like the swimming trunks because they are bright and colourful, not b-o-r-i-n-g, and comfy to swim in.  They're easy to get on and off and they don't fall down when I dive in!  I give them a 10 out of 10, plus a high five!"
The Zoggs Zoggy racer trunks wash well and dry quickly - their usual price is £6.99 (not a bad price for branded trunks) but M and M Direct have the up for sale at just £2.99.
Zoggs Junior Noosa Board Shorts
I really liked/DO like the look and feel of these Zoggs Junior Noosa board shorts - they have that super-soft microfibre and I'm always drawn to simple designs, rather than picture prints.
Now I thought, given the choice between the trunks or the shorts, Edward would have preferred the shorts but on first look he was adamant that they were, "BORING!"  
Well I think they're great!  They're also chlorine resistant and can be washed at 30C too; they feature an elasticated and drawstring waist, a mesh pant-shaped lining to keep all relevant 'boy bits' neat and tidy and tucked away, and have the Zoggs logo embroidered on the bottom of the left-hand leg.
Edward put the Zoggs Junior Noosa board shorts through their paces in the sea on the Sussex coast, he had to admit 'defeat' and confessed they were 'okay' for wearing in the sea as it stopped his legs from getting quite so cold - I'm not sure if they really did, but I know what he meant:  somehow the cold water doesn't seem so cold if there is material between you and the water.
He's also worn them out and about just as shorts, rather than things to swim in - he admits they're pretty cool for that, just weird for swimming in in the pool (but that's probably because board shorts aren't allowed for his swimming lessons).
The Zoggs Junior Noosa board shorts come in sizes small through to extra large, which covers years six to 15.  They usually retail for £14.99 but you can pick them up from M and M Direct for £6.99.
And finally...
I was very impressed by the quality of the Zoggs Zoggy racer trunks and the Zoggs Junior Noosa board shorts; I really have nothing bad to say about them at all and for the prices M and M Direct are selling them for, well, I'd bite their arm off quite frankly!
I've never been able to fault their service - standard delivery is £3.99 and takes between three and five days, next or named-day delivery is £5.99 if you need things in a hurry.
If you're in the market for boys swimming trunks and/or board shorts then I strongly recommend you consider the Zoggs Zoggy racer trunks and Zoggs Junior Noosa board shorts.
Both myself and Edward give the Zoggs swimming trunks and shorts a high-fiving 10 out of 10.