We were sent a box of toys from Wilkinson's and I got to take them home for my daughter and I to unpack.  Some of the items were a bit big for her, so we roped in a friend's son, but we had loads of fun pulling it all apart and having a go.
Here's what we thought of the sample of toys we received from the WilkoPlay! range.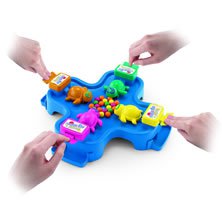 First out the box was the Hungry Turtle  (£4.97) which is a 2 – 4 player game. It "promotes social interaction and communication" and is quite a fun game, although I think it has a limited life span. Basically you have four turtles on levers, and each time you press the lever down, the turtle moves backwards and forwards, lifting slightly to 'grab' a ball from the central area. It drags the ball down with it into a pit below the turtle, which empties out into a catchment area in front of the player.  The idea is to 'eat' as many balls as you can, and when they're all gone you count the balls and the winner has the most balls.
It is good for a bit of fun, and while it's aimed at the 4+ age group, I can see it being a fun drinking game but I do think it would get pretty boring quickly after. I was testing it and my two year old saw what I was doing and pretty quickly cottoned on, taking control of two sides and playing along.
The balls look like peanut M&M's and make me hungry, but are definitely a swallowable size.
I can't actually think of anything that's wrong with the game though. It's a good laugh and a bit of short-term fun.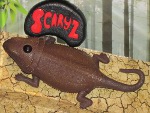 Creepy Critters (£14.99) are pretty cool. We received the Infra-Red Control Lizard, which is precisely what it says on the tin – or box in this case. The Lizard requires 3xAAA batteries, and the remote control requires 2xAA's so it's quite intensive on consumption, but you can send your lizard around the house to within five meters, frightening little sisters and mothers alike, I'm sure.  It has 'realistic' sounds and movement, and you use the S and Z on the remote to control its movements.
These aren't available online, so you'll have to go in store. The Lizard doesn't really look realistic, it's definitely a plastic toy, but they also do a rat that looks pretty good.
I think the Creepy Critters Lizard is a fun toy, and will thrill specifically little boys.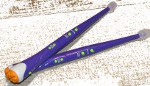 The Rock Star Drum Sticks we received are also not available online, but if you're after a noisy pressie for a child over 3, you've found it. I'm trying really hard to be impartial here, as I loathe noisy toys, so you can trust that this set is probably better than I'm likely to give it credit for.
There seem to be different styles available, but we received purple drum sticks with white tips and green buttons. The buttons on the sticks are for background music, drum mode selection and two drum sound keys.  There's also a button for a 'try me' function and one for an 'on' function. That makes no sense to me as outside of a shop, you'd surely want an on and off option.
The head of the drum stick lights up and produces a drum sound when hit. The nice thing is that you don't have to have an actual drum, so co-ordination doesn't have to be perfect. They make drum sounds regardless of what they're hit against, as long as they're hit hard enough.
The sound is not that of a 'real' drum, as such, but more an electronic sound, which is fair enough when you look at the price and age range they're made for.
The drum sticks are suitable for children over 3, but when I showed it to my husband he forbade me giving it to our daughter. She loves 'making music' with pencils spoons and so on, and we're okay with that, but these drum sticks are really loud  and have no discernible volume control, so we've decided to placate our consciences and decided she's too young to keep them.   Our friend's four year old son loves it though, and I'm more than happy for him to keep them!
My personal grumpiness aside though, these will be a real hit with little music lovers.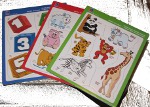 In stark contrast to the drums, is the 3-in-1 Puzzler (£2.97) we received. These we just love.
In this pack you receive three puzzle boards – one with wild animals, one with domestic or farm animals and one with the numbers 1 – 6. I think these are perfectly aimed at the 1+ age group, and they help develop fine motor skills and problem solving, and with a bit of adult supervision will be a great learning tool for animals and animal sounds too.
The pictures have the words next to them in English and French too, and while I'm not sure that's really of value to that age group, word recognition can't hurt.
There are 18 pieces all in all, so there's no risk of swallowing as they really are quite large, and perfect for little hands. Finally, it's made from 75% recycled paper, so there's a bit of environmental feel good too.
We love these, and they've gone into the toy box.
The last toy we've been trialling has been the Mini Cuddles Baby Doll (£3.47), which to me is just a doll. It's sweet, it's cute, it's small enough to fit into my handbag when we're out and about. The hat comes off, but is attached to the clothes, so it doesn't get lost, and the body is nice and soft. As I said, it's practical, functional and cheap.
To my two year old, it's the best thing in the box. She spotted it, grabbed it, and that was about the last I saw of it.  She's been walking around with her 'baby' for days now.
Overall, for cheap and cheerful, and pretty good quality for the price, I think the toys from Wilinson's WilkoPlay! Range are pretty good, and definitely worth having a look at if you're looking for stocking fillers or little pressies.