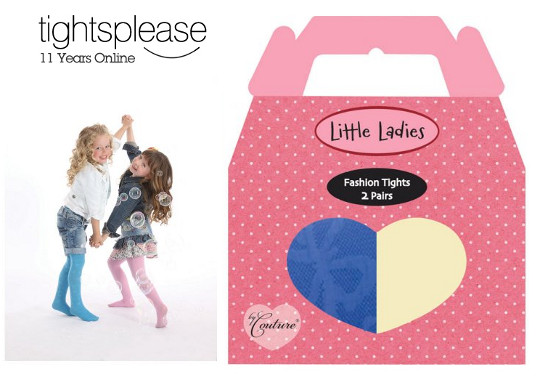 It's that time of year again: layers, layers, layers. I don't take my daughters out without either trousers or tights, because, quite frankly, it's too cold. Unfortunately we never seem to have enough tights. No sooner do I buy tights than either they're outgrown or just missing. I'm forever buying tights! I also generally find them so expensive, but then, when pre-loved is your benchmark, most things are!
Anyway, we were sent a set of Little Ladies Fashion Tights from TightsPlease* to review for you.
Arriving in a box - a perfect gift box for a little girl - the pack of two tights in red and cream were opened with exuberance by my three year old. She loves dressing up, fancy dress, and simply getting dressed, as long as she can do it herself, so she immediately tore into the box to get at the tights inside.
They were actually thinner than I imagined they'd be, or thinner than I think is ideal for winter, but  they're perfectly adequate for autumn evenings or - looking into the future here - spring time frolics too.
The tights are made from 95% Polyamide and 5% Elasthane. They are said to be for handwash only, but we did put ours in the washing machine and the were fine. I expect they would have a much longer life if the manufacturers instructions were followed, but to be honest, as a working mum of two, if I waited for them to be handwashed, they'd only ever see one wear! They are £6.99 for the set, so £3.50 a pair, and that is worth the gentle wash and dry cycle to me.
Available in four sizes, 2-4, 4-6, 6-8, and 8-10 we found these to be pretty generous in their sizing. My just three year old is slender, but tall, and the tights are very loose on her below the knee, but fit 'correctly' above the knee. Below the knee they don't really pass as tights at all.
The red tights have a floral pattern, with butterflies and bees, but it is very understated. Perhaps if the tights were tighter, we'd see the pattern more, but as they were they're not particularly overstated - but it is a very pretty design. The white tights are plain white.
Something unusual about these, whether it's a good or a bad thing I'm not sure yet, is that they don't have a 'designated' foot. The positive of this is that you can put them on either way and you're not going to have a foot on the wrong side. That can be fab when dealing with a toddler - especially one totally insistent on dressing herself. By the same token, a 'foot' area can make the tights fit better, as it seems to give them better form. It hasn't bothered us that there's no foot - we're just aware of it.
There's no denier marking on these children's tights, but they're not stockings, and they've held up pretty well, but they're also not wintery, knitted-style tights. TightsPlease do have some gorgeous children's and baby tights, and they also cater for school wear and a few that are more funky. My daughter spends a lot of time in the forests and fields, and I've been quite impressed that they've not snagged or ripped yet, so I'd say they're pretty decent quality.
The Bad
The foot part is going to be a pro or a con, depending on your personal preference. The more I think about it the more I don't like that - the foot is like a tube and its just too loose.
For a site called TightsPlease, they don't offer a massive array for children, certainly no more than your average department store and less than some children's suppliers
Manufacturer's instructions say to hand wash. Who has time for that?
The Good
They really seem to last well, even with the odd snag, they've not had any rips or tears. I'm really impressed by that.
The price is reasonable.
They're easy to get on, and you don't end up with them the wrong way round
They cope well with the washing machine
They are nice and stretchy so should last at least the season
The Verdict

These are good tights. They're not amazing, and they're not particularly unique in any specific way, but they are good, they last well, and they withstand a three year old. I'd buy them again, and I'm sure my girly will grow into them more still.