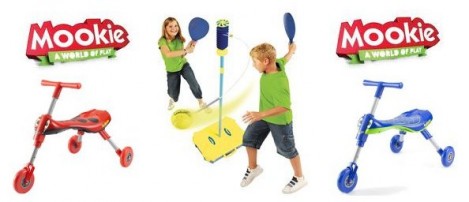 With just four weeks left of summer school holiday torture fun remaining young children still have a lot of energy up their sleeves, and there are only so many trips to soft-play centres you can go to without losing the will to live!
Some good old-fashioned messing around outside in the fresh air is often enough to have our little darlings falling asleep nice and early in the evenings, but what to DO out in that fresh air? And what if it's raining?
We were sent a Mookie All Surface Swingball set and a Mookie 'Scuttlebug'; we thought they fitted the 'messing around in the fresh air but can also be used indoors' bill perfectly, so sent them off to PlayPennies mum Lara to put through their paces.
Mookie All Surface Swingball
I wish I could say that my memories of playing Swingball were happy ones; long, hot, lazy summer days spent playing Swingball tennis worthy of a Wimbledon wild card entry, that sort of happy memory.
But alas, my memories of Swingball are more: long, hot, lazy summer days trying to hit the ball that just refused to come anywhere NEAR my racket, everyone laughing at me and me going home (if I was at a friend's house) and refusing to go back there EVER. AGAIN!
It must just be me though as Swingball is now 30 years old and is, apparently, one of the top 10 best-selling toys of the last 10 years.
"The Swingball set we received lay in a box until I knew my deadline for the review was coming up, because I just didn't think it would stand up to the Swingball sets of my childhood memories," Lara confesses.
See, it really must just have been me that was rubbish at Swingball as Lara goes on to say, "What a waste of time; this Swingball set is just brilliant!"
The Mookie All Surface Swingball Set comes in a case, which doubles up as the base for the swingball pole too.
Lara wasn't sure about this at first, "...back in the day you used to stick a hole in the ground, but actually this works much better, and doesn't damage the lawn."
You need to add weight to the base by filling it with either water or sand to keep it stable, this means you can play with it on any surface and anywhere you have enough space.
Lara admits she hadn't called in any big burly men to give the All Surface Swingball set a good walloping, so I popped over to Amazon to see if any competitive alpha males had taken the time to leave a review, or two, of their own; they had, hurrah!
On the basis of what they said, we needn't worry about the set being less-than-robust or fragile when the swingball playing gets tough...
Don't be fooled by cheap copies, this is the best; well made, durable - I've had some games with other adults, whacking it as hard as we can - and fun.
It would seem that it's a huge hit across all ages too.
I'm in my 70s but found real fun playing with young and old... even after some young bloods tried to exercise their prowess at hitting the ball with such power in an effort to remove it from the string its still going strong. There has been no disappointment with this game.
Having read all of Lara's comments about the Mookie All Surface Swingball set, along with those on Amazon, it's clear that this is something you'll want to take on holuday with you.
"It packs up really compactly and neatly, and is really quite light," Lara explains, "It's something everyone can do from the youngest member of the family to the oldest, as the game adjusts to whomever is playing."
The age recommendation is for players aged six year or older, Lara believes this is a little conservative.
"While they say it's suitable from six years of age, younger children can really have a knockabout too although you're probably not going to get a good game out of them," she concludes.
The Mookie All Surface Swingball set retails for £29.99 but is currently on sale at Amazon for £22.99.
Mookie Scuttlebug

So with one summer holiday hit in the bag, would the Scuttlebug make it two out of two for Mookie?
"We were sent the BumbleBee Scuttlebug," reveals Lara, "and it is one of the best toys we have in our house!"
So that's a yes then.
The Mookie Scuttlebug is a compact ride-on toy that comes in a range of colours and designs inspired from real bugs – ladybirds, beetles, dragonflies and bumblebees.
Lara loves how cute their Bumblebee Scuttlebug is, "Our Scuttlebug is really TOO cute," she explains, "he has bumblebee stripes and funny bug-eyes that make him look very friendly."
There are dozens of cute-looking ride-on toys on the market but the Mookie Scuttlebug has something different - when it's not in use, it can be folded up in three easy steps and stashed away in a cupboard or under a bed.
For Lara, this is what makes the Mookie Scuttlebug so special.
"The folding action is probably one of my favourite Scuttlebug features; we've managed to fit it into the nappy bag when it wasn't being used anymore whilst out and about," she reveals.
Now THAT's pretty special, either that or Lara has the biggest nappy bag on the planet!
To begin with, Lara didn't realise that the Scuttlebug could be used indoors as well as out.
"The wheels are made of a special soft material which makes for quite a quiet ride in the house," she explains.
"I allowed my daughter to ride it in the house because it's a good height so nothing gets knocked over and it really is quiet and doesn't cause marks or scratches on the floor."
She does have some concerns, though, as the Scuttlebug is completely toddler controlled.
"My major concern with the Scuttlebug is that it doesn't have any parental control. There is NO way of keeping an over eager toddler out of the traffic, and as it is only suitable for the under 3's – if your child hasn't outgrown it by then – that's something that worries me," Lara confesses.
So for that reason she feels that it's best kept as only an indoor or in the garden, or other gated area, toy.
"I am just not confident that I would always be fast enough to prevent a launch into the road," she concludes.
The Mookie Scuttlebug retails for £29.99 but, again, is on sale over at Amazon for £21.99.
And finally...
Lara and her family had a lot of fun with the Mookie All Surface Swingball set.
She loved the indoor/outdoor flexibility of it and how it can be used by everyone and adjusted to suit all ages.
The thing that surprised Lara most, was the cost - she was very surprised it didn't cost more than its £29.99 retail price.
The Mookie Scuttlebug was a HUGE hit.
The fact that it can be used indoors and outside was, again , a very big plus but NOT as big as being able to fold it up and fit it into her nappy bag when it wasn't being ridden!
Despite her concerns noted above, she says, "As something that's always done in a safe environment though, we love the Scuttlebug, and again, I'm quite surprised it doesn't cost more."
www.mookie-toys.co.uk