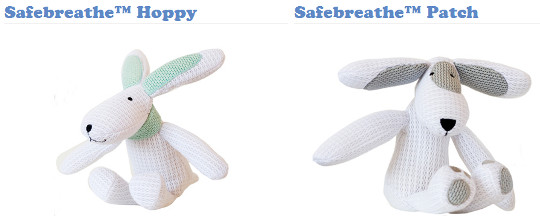 Have you ever put your baby or toddler down for a nap or for the night and had to prize their favourite stuffed toy out of their hands since they're not supposed to have anything in the crib with them? Inevitably they stir, and you hold your breath desperately hoping Junior will go back to sleep?
Well, with Hoppy and Patch, you don't need to.
Suitable for use from birth, the Safebreathe Hoppy and Patch soft toys are made from specially designed 3D Airmesh which has an outer surface of 100% cotton, and a hypoallergenic filling which has air pumped into each fibre during the spinning process.
The idea is that if your child can use this soft toy as their sleeping buddy, I guess as an alternative to a comforter, and because it's breathable, there's no risk of suffocation from it.
I must confess that I thought they were dogs, but it seems Hoppy is actually a bunny and Patch is a dog, so you can either have one of each, or you can have separate toys for different children – the point is, you have options.
Of course, the first thing I did with Patch when I took him out of the packaging was hold him to my mouth to have a breathe. Yes, I could breathe through him perfectly easily. It wasn't like breathing fresh air, but you wouldn't expect it to be, really. It was just like you were breathing through mesh or something. In other words, perfect, but not preferable, which is, in itself, perfect and means it's doing the job it was meant to do.
It did have a slight… wet sand after a long dry spell smell to it (I love that smell, by the way!) but seeing as the idea isn't to actually breathe through it, that won't be a problem. Additionally, you can wash these toys in a normal washing machine at 30 degrees which is great. If either Patch or Hoppy become big favourites, it may be worth buying two, so you can swap them out if and when you need to.
From a toy perspective, Hoppy (and Patch) is great for little people. He has no sharp catches, and his eyes are sewn on. He has no glued eyes, buttons, or similar bits that could be pulled off and swallowed. All his accessories, like his colours and his scarf, are sewn on and unremovable. If you have any concerns whatsoever, Patch doesn't even have a scarf, so nothing that can come off.
Both soft toys have thick, bulky limbs, ideal for little hands to grip on to, and also firm enough for sticking into small mouths to gum on when teething.
While Hoppy and Patch look like knitted toys in the pictures, they aren't actually – instead they are stuffed material, which is nice, in a way, as it feels more 'purpose made'. I quite like that.  They do come with a tag which is attached around the neck with ribbon that can be easily removed. There's also a hanging plastic hook (like the type that attaches labels to clothes?) that just needs to be pulled out.
I also think that if mum keeps Hoppy and Patch close (i.e. in your shirt) for a few hours, he'll absorb some of her scent, which I know with my baby has helped when it came to settling at night.
Overall, I can definitely see a place for the Hoppy and Patch soft toys on the market and in the pram or cot.
The Good
Patch is a great size for a soft toy, he's easy to hold firm and really friendly looking, especially with his big floppy ears
The breathability is its main selling point, and it does it, perfectly.
It can replace the plethora of soft toys new babies are given, which they can't really even use for the first year or more.
It prevents your child 'bonding' with a toy they can't sleep with.
The Bad
I think that if you're worried about suffocation there's little that a parent won't do or pay to keep their baby safe, so in that light £14.99 is probably not too bad, but for essentially a soft toy, it is quite pricy – or not… it depends on where you normally shop, I guess.
The Verdict
If you're after a breathable toy for your child, this is brilliant. It's unusual, unique, quirky and good, and it does what it says on the proverbial tin. It's a perfect cuddle size, and it's soft and squishy, while being firm and safe. Nothing not to love, really.