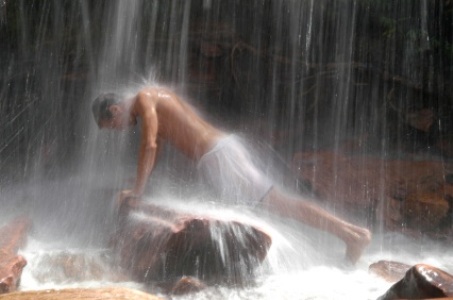 It isn't all about the ladies this parent pampering month, men deserve plenty of love and attention too. This range of products from Dove, designed specifically for men, is both cost effective and has met with good reviews from our panel of male experts.
How did they become experts you ask? They are men, they are dads and they like to be clean. We felt that this placed them in an excellent position to review the Dove range.

This particular bottle of body and face wash for men met with overwhelming approval.
"This is fantastic stuff," said Adam, "It doesn't smell overpowering and is exactly what I'd expect from Dove."
Mike went on to add that, "I suffer from really dry skin thanks to the hard water conditions where I live and I noticed a difference almost immediately. Oh man, I sound like a girl, don't I? Do I sound like a girl? Look, this stuff is good, ok!"
Mike did sound a little like a moisturiser advert but he was really impressed. The Daily Purifying range includes cleansing grainules that actively remove dead skin and impurities while you shower, and the Micromoisture technology (seriously?) protects from dryness. The Micromoisture capsules are filled with natural sunflower oil that lift dirt and deliver moisture directly onto the skin.
The smell and the easy lather plus the lack of dryness post wash, made this particular shower gel the winner. It also only costs £3.10.
The Extra Fresh shower gel is all about a zingy cooling sensation when you wash. It contains all the fab moisturising ingredients and extras that Daily Purifying has but, instead of cleansing and exfoliating microgranules, it has Menthol lushness. However, it did not meet with as much excitement as its friend.
"The smell is just that little bit too overpowering," said Adam, "I expect Dove products to smell really neutral and this borders on the slightly cheap edge for me."
"The smell isn't the best," agreed Luke, "But of the two I felt cleaner after using this one. It's nice. I'd keep using it."
The smell may have been a negative point against this particular shower gel but it ticked all the other boxes.
"I feel clean after using it," said Mike, "So it works and that's good enough for me."
None of the waxing lyrical like the ladies in these reviews, I'm afraid. As far as our man panel went, the shower gel did its job and was a bit smelly. End of. You're looking at spending in the region of £3.10 for one of these, a complete and utter bargain for the size and the quality.

"Oh, this is nice!" said Mike, "Not crumbly or dry or sticky. Just clean and quick." The deodorant stick has a very subtle smell and includes the same moisturising extras as the other Dove Men +Care products. All the guys said that they wanted a roll-on that was low key and didn't leave any marks and this particular product seemed to work for them really well.
"It's not too overpowering in the smell department," said Luke.
There isn't a lot you can say about anti-perspirant for men. If it stops the perspiring, smells good and isn't powdery then it pretty much does what it should. Well, this Dove product does exactly that and is a worthy purchase for that man in your life. It costs £3.99 and wins on price point too.
The Cool Fresh roll-on includes all the same moisturising and anti-perspirant properties of its friends and neighbours but adds in some anti-irritant bits as well.
"This one and the Daily Purifying shower gel are my favourites," said Adam, "I'm going to keep using these now as they are better than my old ones."
Well, that's certainly an impressive review. I've found that once a man has chosen his product he tends to stick with it until either the company goes bust, or he does.
"Good smell, barely there," said the ever effusive Luke, "Subtle enough to do its job without competing with my aftershave."
"It is nice and smooth, silky and leaves no stains," said Mike, once again demonstrating his ability to write for women's advertising campaigns.
Costing only£2.82 it's cheap and not nasty. Score.
The Result
The Dove Men +Care range is cheap without being nasty, has excellent moisturising properties and really does its job well. The men couldn't find much fault with the products on offer and felt that they were getting a quality product for a solid price. I would certainly recommend these for your partner pampering this month.