Review: Cool Video Cameras and Macho Blenders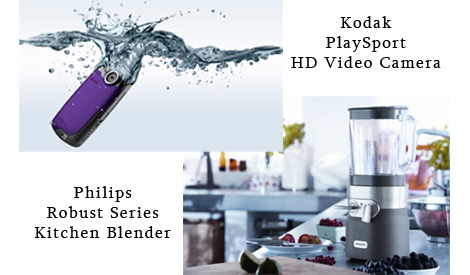 You might want to grab a coffee before you get too involved in this because we have a couple of monster reviews for two MEGA items for you; there's so much to tell you about the Kodak PlaySports Video Camera and Philips Robust kitchen blender we don't want to miss anything out.
Our mantra and purpose here at PlayPennies is to find ways of saving parents money wherever we can. The most obvious conclusion to jump to is that we'll only send you to your local Pound Shop or say that anything over a tenner is a heinous overspend, too lavish and an unecessary extravagance.
And whilst it's true that we despise extortionate delivery charges, utterly adore big-number discount codes and love a good freebie, we don't always believe that good deals or saving money means you have to buy cheap, this can actually be false economy and could actually end up costing you more in the long run.
Today's review products fall into that category; a couple of weeks ago there was a guest post from the author of one of our featured blogs in 'PlayPennies loves...'  Harriet made the point that there are items which are just worth spending extra on.
And she's right - our intrepid dad testers believe this principle applies to the blender and the video camera we sent them (yes, we really gave a blender to a man to test - let's not be sexist now! - it'll all make perfect sense).
Why dad testers again? Well it's Father's Day on Sunday and whilst us girls can give a pretty educated guess at what the male perspective would be, you can't quite beat it straight from the horse's mouths and we've discovered they often have a habit of surprising us!
Kodak PlaySports Video Camera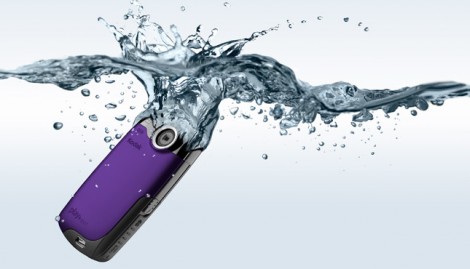 Babies, they grow up super-fast and whilst you'll never forget the big milestones in their lives there's nothing quite like photographs to look at and share with them (and even their children) when they're older...apart from VIDEO of those special moments!
First smiles, first tooth, first crawl, first steps, first day at school, first sports day, first school play! Do I need to go on?
We sent a Kodak PlaySports Video Camera to a family and asked the dad of the household to put it through it's paces...
"When we received this camera in the post there was a collective sigh of awe; a moment of reverent silence. You see, this camera came into a household that adores technology. A family of geeks with a fondness for gadgets. It didn't take long for the husband to whisk it away and spend many happy hours murmering over it."
We do like it when a review product gets that reaction before it's even done anything because then the product performance has to live up to the visual expectation and we know it's going to be in for a tough review!
So it looks cool and has been drooled over, but what's it like to use?

"It's supremely easy to use. One click here, one click there and boom, you're off!" Adam told us, "although you do need to insert and charge the battery before you can go wandering off to shoot fun things."
It took Adam about two hours to fully charge the charge the battery, "Not a pain at all as everything is very plug-and-play. I just stuck it into the USB socket on my PC. I chose to automatically download the Kodak software as asked so I could review the camera in all its glory."
The camera comes with an enormous instruction manual which initially had Adam's eyes open wide in horror!
"At first I thought the extremely thick instruction manual was a bit of a bad sign but the manual is actually the same instructions in about 100 different languages. There are only 19 pages of instructions in English and most of those are disclaimer copy. Wahey!"
I think we can safely assume he was v e r y happy with this discovery; staying with the instructions, Adam went on to say, "The manual has pics for EVERYTHING so you won't get stuck," comforting to know, as sometimes what sounds simple on paper can prove to be Krypton Factoresque when you try and do it for real.
This little camera can do SO much it's almost ridiculous, how can so much tech' fit into something so small?!
You can choose between three different LCD Glare Shield filters: normal, high saturation and B&W. You can shoot in 1080p (for HDTV viewing), 720p/60 fps for sports and action shooting,720p for viewing on a PC, sharing on YouTube and Facebook, and then WVGA for conserving memory card space and you can even take 5MP still photos.

"Shots done in all three modes came out truly fabulous in the correct conditions, and rather interesting in the incorrect ones," revealed Adam. We knew he'd 'break' the rules and try everything in every mode possible for the review, "and you can just set whether or not you are shooting underwater with one click!"
Yes you read THAT right, this little marvel of technology SWIMS! No more musing on whether you can knock-up some sort of Heath Robinson waterproofing for your camera so you can take pictures underwater.
"The Kodak PlaySport is small, lightweight and the quality is superb. We LOVE IT!" gushes Adam, "Even uploading the videos and setting the different formats is easy. We invested in a couple of SD cards and keep them near the camera at all times. It doesn't come with a travel pouch but it does come with a strap for your wrist, two different ways of charging it and a battery."
On the subject of memory, Adam also had this to say, "The amount of storage you get on the camera itself is miniscule. You will be able to film MAYBE 15 seconds worth of coverage without having to get yourself a SD or SDHC card to store," so Adam's first test run of the camera was cut extremely short, "There isn't much fun to be had when you only have a few seconds to play with," he told us.
A 32GB SD card will give you around 10 hours of storage at 720p and for the average family that should be more than enough movie time to keep everyone happy, HURRAH!
I think we can safely say that Adam and his family were totally won over by the Kodak PlaySport, and in closing he had this to say...
"The Kodak PlaySport camera is very light, super portable and the fact that it's only £129.99 from the manufacturer is just crazy!" and at PlayPennies HQ we have to agree with him.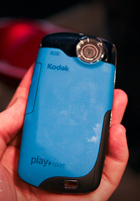 This is supremely good value for money when you look at the size, the weight, the features and the design - it also has a rubbery high-grip surface on the back to make it less likely to slide out of your hands, "to avoid crushing it as you film high speed car chases down the driveway!" supposes Adam.
"For a family camera that can withstand the knocks, capture that first swim, go on holidays this is perfect. Just perfect. If you don't have a videocamera at home yet then this Father's Day is the perfect excuse. No bloke can resist this. Just try and stop him from throwing crazy shapes and filming them!"
The mind boggles and I rather think we might just see a rash of YouTube underwater video uploads shot with this rather nifty little HD video camera.
Philips HR2181 Robust Collection Two Blade Blender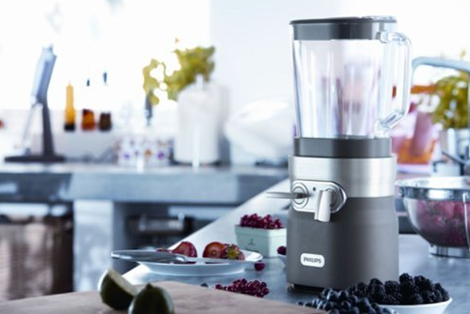 "When I was asked to review a blender for PlayPennies I was expecting something normal.  So when a HUGE box arrived that weighed a ton I was rather surprised, then when I took it out of the box I wondered if they'd made a mistake.  It WAS a blender but this thing was a BEAST!" was Tim's first reaction.
We really wanted to this blender to be given a thorough run for its money because if you take the price at face value it's a lot of money, £250 worth of it in fact.  Right, now that you've caught your breath and wondered if we've gone totally mad, we'll move on you'll see there's method in our 'madness'.
We sent it to a family who use this particular kitchen gadget a LOT and, once more, we asked for the male persepective.
"I'll be honest with you, when I found out how much this blender cost I laughed.  I mean, no one in their right MIND would spend this much on a blender would they?" Tim confessed to us.

One of the biggest things that stood out to us here at PlayPennies about this blender was Philips' five year guarantee on the whole machine and a whopping 15 year guarantee on the motor!  15 years - we think they're rather confident in its endurance!
"The five and 15 year guarantees impressed me," said Tim, "I'm sick and tired of spending money on things that blend and then have to replace them within weeks, months or just a year or two; the number of blenders we've got through as a household over the years is quite staggering."
And Tim's not alone, research carried out by the Mintel International Group (independent providers of market research and critical analysis of consumer trends) says...
"Consumers are becoming disillusioned with the short life span of many modern small appliances and one in four are prepared to pay more for quality that lasts to save themselves money in the longer term and benefit the environment."
Tim agrees, "We've been using blenders since our first child was born and we tried out various options: properly cheap hand-held things for a fiver, more expensive hand-held things which just sprayed most of the baby food we were trying to puree everywhere and then burned out after 4 months," we began to get a bit worried for Tim, we hoped his blood pressure hadn't got too high.
"Even the bigger 'jug blenders' that we paid £50 or more for have never really lived up to expectation and either given up the ghost, the plastic jug cracked and so on, I really could go on because the more I think about it the listof disappointments has been endless. "

The Philips HR2181 Robust Collection Two Blade Blender has a two blade system (the title gives it away a bit I know) along with all the following features:
A solid metal base
2l scratch proof glass jar
850w motor (guaranteed for 15 years!)
5 year product guarantee
Stainless steel serrated blades that move in opposite directions for continuous ingredient flow
Auto-accelerate function
5 speeds and pulse function
Dishwasher safe
"The name 'Robust' really does sum up this blender," Tim said, "the metal base really is very solid and provides a very sturdy base for the HUGE glass jug. It's made of very thick glass and just sits on top of the motor unit - no twisting it on or off, it just...sits."
Philips are clearly of the opinion that simplicity is the key with this blender as there are no flashy LED display screens, no complicated push-button electronic functions - just two big chunky switches.
"I love the simple design of this blender, I don't need buttons that beep when I push them or pretty flashing lights - I just want something that does exactly what it promises to do in the shortest amount of time. I also don't want to have to spend an age cleaning it either."
Not too demanding are we Tim, but he did go on to tell us that the only removeable part of this blender is the lid; everything else is seamlessly moulded together.  The blade base made completely of stainless steel and seems to merge with the glass of the jug!
"I thought this was a master stroke," Tim gushed, "The jugs of other blenders I've had have been made up of component parts and after a while 'stuff' starts to build up and before you know it, you're blending in mould, skank and goodness knows what types of spores into your food, which is NOT good when you're blending baby food. This just can't happen here  - just rinse and go, or throw it in the dishwasher. Perfect!"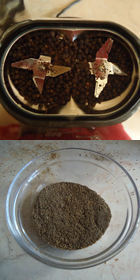 Since Tim's had the blender it's been used every day for blending smoothies, making homemade soups and tomato sauces, crushing peppercorns, ice, nuts, biscuits,  dry pasta and even 'grating' chocolate.
"I'm not prone to falling in love with kitchen appliances but this one really did it for me!" laughed Tim, "I'm a big smoothie fan and threw in all sorts of things to see what this beast was made of - raw porridge oats, big chunks of apple, nuts, ice...well the blurb that came with it did brag that it could handle almost anything at the same time!" now you see why we choose Tim to review this particular product.
"Everyone in the family held their breath and waited when we did the first smoothie test. We decided to test the auto-accelerate function which starts the blades off slowly and then goes through each speed until they hit 11,000rpm!"
Philips say that this function is particularly useful if you're blending smaller amounts of food like baby food as it stops it from exploding upwards with the majority of it ending up stuck on the lid.
"Perhaps we are all blender freaks in our household," commented Tim, "because gathered  round it for the inaugural blend we  stood there with big grins on our faces as it got to work.  It's not excessively noisy but listening to it accelerate is akin to listening to the engine whine of an airplane revving up and getting ready for take off; very cool and very effective!"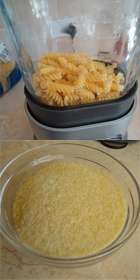 Tim really did put this machine through it's paces and sent us in a whole host of blended before and after pictures - and if you're wondering about the peppercorns and pasta, Tim's daughter doesn't like chunks of ground peppercorns in her food but likes the flavour they give and the dry pasta?  Well, apparently that was just to see how it would handle it.
"The smoothie was AWESOME! It was like it had been whipped with air, soups were like liquid silk and homemade tomato sauce was a big hit with the kids and there was no need to push any of it through a seive."
So the big question is this - had living with the blender for a while changed altered Tim's perception and initial reaction to the price point of this blender?
"ABSOLUTELY! Having used and, quite frankly, abused this machine every day for the last three weeks or so I'd never be able to go back to a cheapo 50 quid version.  It's what I've been looking for - something that does it's job properly and saves me time. In fact, with the double blades, it's like having two blenders in one!"
We think he likes it!
"I am officially in love with a kitchen appliance! I want one for Father's Day! Can I have one for Father's Day??! It's tough looking and macho - seriously, this is a blender for men!"
Other research from Mintel has revealed that 'despite the weak economy, price was not as important a consideration as perhaps expected, with nearly a third of consumers prepared to pay more for quality goods' and this certainly seems to be the case here.
Going back to that 15 year motor guarantee, a quick bit of maths and dividing the purchase price of £250 by 15 reveals that in real-terms it's costing you £16 a year over the next 15...if your household is anything like Tim's then this is going to be a kitchen investment that will, in the long run, save you money.
And finally
These are fabulous Father's Day gifts if you want to give something a little bit 'more' this year; something special that will last a long time, be used often and give back far more in enjoyment than the money you paid for it.  Presents like these are worth their money in gold for that alone.