Poundland Christmas Gifts Review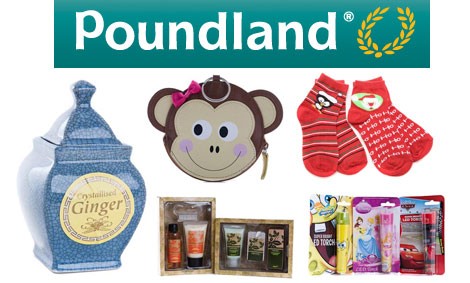 Ohhh you're cutting it a bit fine if you're still on the hunt for Christmas gifts!
Fear NOT, intrepid PlayPennies reader, we were sent lots of Poundland Christmas Gifts to review, which we sent off to one of our PlayPennies families, so perhaps you'll find some inspiration (and wallet salvation) among the following...
Sporty Boy Wash Kit

"This Sporty Boy Wash Kit is rather ace - you get bubble gum scented body wash, a car shaped sponge and a flannel for £1," Louise told us, "the bubble bath is very frothy and the smell is...quite 'strong' but the boys loved it and if it gets them in the bath then I'm all for it!"
Louise also told us the flannel was a bit thin but she thought the sponge was fab!
Ceramic Handbag Money Box

Louise thought this Ceramic Handbag Money Box was adorable and ideal for little girls.
"The handle is made from fake plastic pearls and the bag itself is very sturdy. You can get it in two shapes and would make a really lovely, and cheap, stocking filler. It's also easy to open and easy to put your money into."
Kids Christmas Socks

Louise's daughter won't take these Kids Christmas Socks off apparently!
"These are soft and comfy and the Ho Ho santa has actual fur on his beard and head to make his beard and hair. They seem fairly durable, if a bit thin, but at the rate kids grow, they'll only need to last a season anyway," explains Louise.
Disney LED Torch

The Disney LED torch was a big hit in Louise's household.  It doesn't come with the 2 x1.5v batteries it needs andd you have to unscrew the teeny screw at the back to insert them when you have some, which Louise found rather frustrating.
That said, Louise also discovered that it is a multi-purpose torch and can do more than just illuminate, "My little one has also been using the Disney LED torch as a wand and it's strong enough to be used as a battering ram  for breaking into castles!
Monkey Purse

I rather liked the look of the Monkey Purse when I saw it, but Louise wasn't so keen, saying she wouldnt' even pay £1 for it!
"The Monkey Purse is all soft and squidgy and has a little bow at the top. It isn't designer or anything, a bit cheap really," Louise explained, "but for kids it is ideal. It also fits onto a keyring (or school bag) so it won't get lost easily. Not as great value for £1 as say the socks or the wash kits though - I wouldn't pay £1 for this."
Natural Thai Body Set

"The Natural Thai Body Set smells so fresh and fruity, that I wanted to EAT IT!" Louise confessed.
"I was sent the orange one and it comes with hand wash and hand lotion with nail brush and it is lovely, just lovely," she continued. "Forget stocking fillers this would even make a fantastic present in its own right! It has lots of packaging though, which was a total pain."
Crystalised Ginger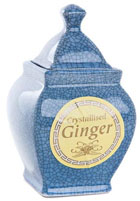 This is a real 'marmite' pressie!
You're either a lover or a hater and Louise is that much of a hater of Crystalised Ginger that she flatly refused to put it anywhere near her mouth; her husband came the rescue!
"The Crystalised Ginger comes in this weirdly fake Chinese ming style ornament ceramic thing that would be rather nice for storing tea (real tea) once you've eaten the ginger!" he suggested to us.
I couldn't help wondering how many people drink real tea with leaves that don't come in a bag anymore, but apparently the ginger was very gingery and very crystalised, "It's not the finest Crystalised Ginger I've ever eaten but, then I'm no connosieur so I reckon it's pretty alright, and for a quid you can't go far wrong," he concluded.
For Him Bath Collection

With the 'For Him' bath collection you get shampoo, shower gel and an orangey brown flannel.
"My husband took one look at this and shuddered," Louise said, "I'm inclined to agree; it's not great looking, but then I am not the target market."
"It Smells good though," Louise elaborated, "not too overpowering but not high fashion either. I would put this as a nice stocking filler or pressie for gramps (sorry gramps!)"
Driver's Multi-tool
"Don't laugh!" giggles Louise, "the Driver's Multi-tool is actually pretty handy and I rather like it!"
It's a precision can opener, robust flat-headed screwdriver, all-powerful bottle opener, supreme ruler, F1 spec' socket set, resilient wire stripper, bonus plumb line attachment point.
I'm trying NOT to laugh too much, but all-powerful bottle opener? Can it rule the universe or something?!
And as for the F1 spec' socket set description...my dad is an F1 engineer and I've NEVER seen him with one! Maybe that's because they all have tucked away in their back pockets, as it's the same size as a credit card.
Joking aside, Louise felt this was the best of the all the Poundland Christmas Gifts we sent her to review.  But here's the bad news, we cannot find a Poundland link for it for love nor money!
Metallic Look Ballpen and Pencil
Louise really loved these, BUT once again we couldn't find a Poundland link, or picture, for you, so here's what she said about them verbatim and fingers crossed you can track them down in-store from her description.
"These are ACE! They're red and simple. The pen is lovely and soft and creamy to write with; I hate scratchy pens. They look good, the red is really rich and shiny. I give these a big fat hands up!"
And finally...
PHEW! You made it to the end - if I had a £1 to give you, I would and you could go and choose any of the above Poundland Christmas Gifts to spend it on.
Just in case you're wondering how much all the Poundland Gifts cost, clue is in the name of the shop! Everything costs £1.
You can't buy things online at Poundland but they have shops everywhere.
If you need to pad out the stockings a bit, buy lots and lots of pressies because you have an enormous family without the enormous budget to match, then seriously, check out the Poundland Christmas Gifts.
Good LUCK - you've got two and a bit shopping days left!