Have you watched Pointless on BBC1?  It's hosted by Alexander Armstrong (of funny Armstrong and Miller fame) and is almost the reverse of Family Fortunes in a strange kind of way.
Basically, 100 people were asked a question and their answers to it totaled up - so if the question was 'name the signs of the zodiac' and 50 people said Libra then the answer 'Libra' would be worth 50 points; if two people said 'Aquarius' then the answer 'Aquarius' would be worth two points.
If no one said 'Gemini' then the answer 'Gemini' would be deemed as a pointless answer because it's not worth any points - and THAT is the point of pointless, score as FEW points as possible to avoid being eliminated.
It's quite fun to watch on TV when you've got your head around the concept that the most popular answer earns you lots of points that you don't want, and a wrong answer will net you a whopping 100 of them.
So we've been doing a bit of 'homework' in readiness for this review by watching a few episodes of Pointless and we - my daughter and I - were feeling quite confident, last night, when we unleashed the board game version.  Here's how we got on...
Pointless Board Game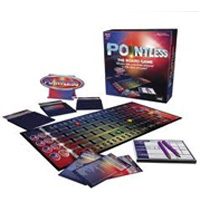 The Pointless board game requires a bit of sorting out before you can get playing - there are various packs of cards for the different rounds: one, two, head-to-head and the end game, which all need to be sorted.
The pointless and head-head-head counters need to be pressed out and sorted and the 'coveted' (apparently) Pointless trophy needs to be constructed - this is a piece of printed cardboard that folds into a 3D shape and has the Pointless logo printed on it.  We didn't have a clue what it was for until we got right to the end of the rule book.
And about those rules - this has to be one of THE most complicated and confusing set of game rules I've ever read!  I'm going to back up first and tell you exactly what you get in the box before I get onto the rules and how you're supposed to play - the key phrase in that sentence is 'supposed to play'.
In the Pointless board game box you get:
A cardboard version of the electronic Pointless board from the TV programme
Counters A, B, C and D
Four Pointless logo'd pencils
Packs of cards for rounds one, two, head-to-head and the end game
A Pointless trophy (that would work with a small P for pointless too!)
Pointless and head-to-head counters
Three plastic card wallets for round one, round two (this one has a see-through window), head-to-head and the end game round
Pad of quiz sheets to record your answers on
The RULES
Pointless can be played with between two and four players individually, or teams if you have a larger gathering of family and friends and if you haven't seen the TV version,  GOOD LUCK!
There are different rules for playing with just two people and this is something I wouldn't recommend because it was a right faff, to be honest.
When you play with just two people, the person asking the question also has to answer it too - so they have to pick a card for the correct round, not get a peek at the answers whilst trying to slip it into the correct plastic wallet the right way up, so the question pokes out the top and can be read!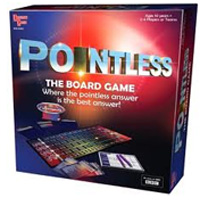 The general knowledge questions are very broad and can range from 'Kylie Minogue songs that reached No. 1 or No. 2 in the UK Top 40 Chart between 1990 and 2009' to 'Labour Party Leaders between World War II and 2009' (there seemed to be a fair few 2009 date deadlines).  I knew I was onto a winner when one of the questions was 'Name Elizabeth Taylor's husbands' and Elise said, "Who on earth is Elizabeth Taylor!?"
So you answer the questions and you note down the points you accumulate on your score sheet and then move your A, B, C or D counters down the Pointless board a'la the electronic board on the TV version - it was only when we were half way through the game that we realised we hadn't been doing this!
We'd been answering the questions, had got to grips with the various rounds but we hadn't moved our counters up and down the board once - it didn't have any impact on the game play at all and we came to the conclusion that this element was, itself, pretty pointless.
Once we'd got into the swing of things it was rather fun trying to wrack your brains to come up with the obscure answers that no one else had thought of and it's amazing to discover what you know, what you don't know and what you thought would be an easy question that turned out to be the exact opposite - after giving 'Mama Mia' as an answer to 'Abba songs released in the 1970s' my mind went blank and I couldn't remember any more!
And finally...
I triumphed over my daughter and am now the 'proud' owner of the cardboard Pointless trophy; even though it was fun spending an hour or so playing the Pointless board game together, I don't think Elise will be challenging me to another game in order to win it from me any time EVER, let alone soon.
The cards ended up a bit all over the place towards the end of the game and I think card holders to keep them in would be a good thing and the actual Pointless board is pointless and doesn't actually add anything to the game play at all.
The suggested minimum age limit is 10 years old - well I don't know any 10-year-olds who would have been able to answer any of the questions that me and Elise answered; some of them left my brain completely numb and my general knowledge is pretty sharp (Abba songs aside).
Pros, Cons and Overall Score
Pros - great for general knowledge buffs and learning things about things you didn't know about before, great for spending time together as a family
Cons - overly complicated with an unnecessary board, really not great if you're playing with just two players
Overall score - 5/10
On the basis of everything I've told you, I'd only recommend the Pointless board game if
You're fans of the TV show and
You're going to play as a family in teams that have a mix of adults and children, otherwise the kids are going to get cheesed off VERY quickly not knowing any of the answers and stacking up hundreds and hundreds of points.
Pointless retails for £19.99 in all the usual places but, if you have a burning desire to buy it now and see if you can win that cardboard trophy,  you can buy it for £13.99 at Amazon (for now), which isn't too bad in the board game scheme of things.
Having the benefit of review foresight, would I buy it?  In a word, no - I'd rather play along with the TV version for free.