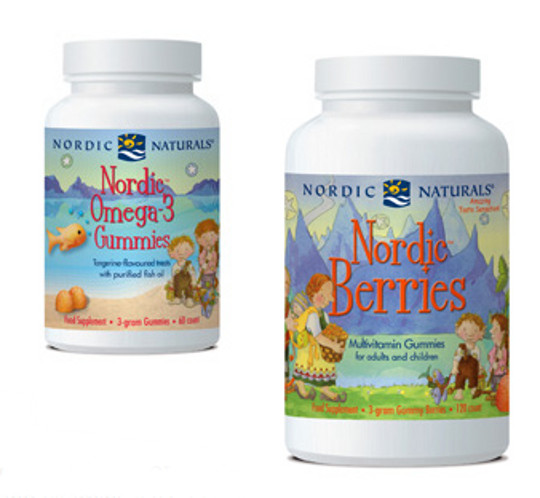 I know that we're loving the warmer weather, and the occasional sunshine too, but as the nights already start drawing in, I've been thinking about vitamins, and cold prevention for the inevitable winter that's coming. (Forgive the pessimism! I'm really more of a summer person!)
I've been testing the Nordic Berries and Nordic Omega-3 Gummies vitamins on my two year old for the last few weeks, and while I can say that she hasn't had a cold or anything recently, I guess the true test will be come winter, when she's more likely to get ill anyway.
The Nordic Berries are citrus flavoured jelly sweets.  They are pectin-based and chewable, and they provide 100% of the daily value of the most essential nutrients, including zinc, and vitamins A,B,C,D3 and E.  They are also gelatin and allergen free.
Ingredients include tapioca syrup, sugar pectin, citric acid, fumaric acid calcium, brown rice syrup solids, ascorbic acid, trimagnesium citrate anhydrous zinc citrate beta carotene 10%, biotin, d-alpha tocopheryl acetate 630IU/g, natural orange flavour, d-calcium pantothenate, sodium citrate vitamin D3 folic acid, pyridoxine HCI, vitamin B12, thiamine mononitrate, riboflavin, choline bitartrate conditioned potassium iodide, inositol.
The Omega-3 is also citrus flavoured, but has a very definite fishy aftertaste which does not appeal to me, but my daughter doesn't seem to  notice and keeps asking for more "sweeties".
The Nordic Omega-3 Gummies have no artificial flavouring, colouring or preservatives. They are gluten free,  yeast free, and free from all milk derivatives.
Ingredients include tapioca syrup, evaporated cane juice, fish oil (from anchovies and sardines) porcine gelatin, pectin, citric acid, natural flavour, achiote pulp, fumaric acid.
It was a big shock to me a few months ago when I bought a huge supply of vitamin C on sale at a local supermarket, only to realise later that they are laden with Aspartame, which really isn't good for children. These don't have Aspartame in them, and since we can use them as 'treats' too, we think they're fab!