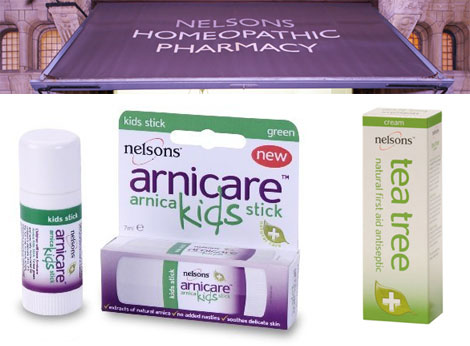 Bumps, brusies, cuts and grazes go hand-in-hand with children and are all a part of growing up.
When I was little, my mum used to smear Germolene cream on bumps and grazes, I don't even know if it's still in production, but these days a lot of parents favour a more natural approach and Arnica and Tea Tree are among two of the most favoured.
Nelsons have been around sine 1860; founded by Ernst Louis Armbrecht, Nelsons is now Europe's oldest, and the UK's largest, manufacturer of homeopathic medicines (he married Charlotte Nelson in 1866 and the company name became Armbrecht, Nelson & Co.  This ended up being abbreviated to A. Nelson & Co and now just Nelsons...just in case you were wondering).
Nelsons got in touch recently and asked if we'd like to review two of their best-selling products: an Arnicare Kids Stick and Tea Tree Cream; naturally, we said yes.
We umm'd and ahh'd about which PlayPennies mum to send this to - did we send it to someone who wasn't really clued up about this sort of thing, or to a mum who's very on the ball when it comes to all things natural?
We decided on the latter and sent the Nelsons products off to PlayPennies mum, Lorna.
Nelsons Arnicare
Arnica Kids Stick

Just in case you don't know much, or anything at all, about Arnica - here's a quick Arnica 101 for you...
Studies have shown that when you apply Arnica to the skin it can help to stimulate blood flow, so applying it to a bruised area (1) may help to reduce the pain, swelling and discolouration of the skin; it is also said to help with the stiffness that comes with sprains and general muscular aches and pains (2).
Here's how Lorna got on with the Nelsons ArnicareTMArnica Kids Stick - £5.35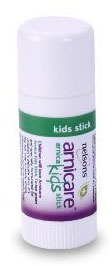 "I think this is a great idea and it has many positives going for it," says Lorna, "but there are a couple of things that have turned into niggling negatives for me."
Lorna is a self-confessed firm believer in natural remedies and uses Arnica tablets and gel after injuries, sprains and bruising or even a big shock so, naturally, she was very keen to try the Nelsons Arnicare Arnica Kids Stick.
"The very first problem I came across was that I couldn't tell specifically what it is for!" she reveals, "Unless you know that Arnica is good for bumps and bruises, you wouldn't really know what to do with this as absolutely nothing on the packaging tells you.
All it does tell you is that it can be applied as often as needed and that it shouldn't be used on broken skin."
Lorna knows her Arnica and she found this very strange.
"It's especially strange since the packaging tells you that Arnica has been recognised for it's invaluable natural properties since the 16th century," she continues, "but then leaves you completely in the dark as to what you can use it for!"
The Arnica is in the form of a green hard gel and Lorna tells us it can be quite hard to apply, especially if being applied to an injury.
"You don't want to be pressing down hard on it," she explains, "but I found that if I warmed the stick up in my hands for a minute or so before applying it, it went on smoothly and easily."
As to the actual effectiveness of the Nelsons Arnicare Arnica Kids Stick, Lorna feels she can't, in all honesty, really say.

"My two-year-old is constantly knocking and bumping into things; she likes having it put on and is then happy to carry on going about her business," says Lorna.  "She doesn't really bruise much anyway, so the Arnicare hasn't made a noticeable difference to her.
I think she thinks it's going to heal her injuries, so for that alone, it's probably not a bad buy."
"While I'm sure it does have some positive effect, I think the concentration of Arnica to other products is quite low and it smells more of Shea butter than anything else."
Now you can see why we chose Lorna as our reviewer can't you!
"That said," she continues, "it does leave the skin feeling very soft and smooth, it's useful to have in your bag, it doesn't cost very much in relation to how long it lasts, so if it brings my child relief, it works for me."
That works for me too.
Nelsons Tea Tree Natural First Aid Antiseptic Cream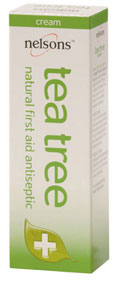 In contrast, Lorna LOVED the Tea Tree Natural First Aid Antiseptic Cream - £4.65
"It has an incredibly strong tea tree smell, which makes you feel like all germs  have been eradicated from the area," she explains.
I'm a big fan of anything Tea Tree, so I was very interested to see how it would fair under Lorna's scrutiny.
The cream can be used on anything from cuts and scrapes to spots to very dry skin and while it may sting a little to start with, it's very effective in cleaning and soothing the affected areas it's applied to.
"I was a little surprised at the list of ingredients, as a 'natural' product it has quite a few not so natural products in it, but if you don't have allergies, it shouldn't be a problem," Lorna tells us.
What did come as a surprise to Lorna was the caution against using Tea Tree if you're pregnant or breastfeeding (which she is!), "That's news to me!" she exclaims and, trust, me this isn't a warning/caution that Lorna would have previously missed!
Lorna reports that the cream is quite light and easy to spread and absorb, so a little goes a very long way - we always like that in a product.
"While you can carry a tube around in your handbag or nappy bag, I think it's unfortunate that they don't have the Tea Tree in the same format as the Arnicare Kids Stick as I think that would be superb!" she concludes, "Lids always seem to come off things in my handbag, leaving me with a handbag full of cream!"
And finally...
Lorna is nothing but honest and she can't say wouldn't buy either product as she thinks they both have their place and use in the home and when out and about.
Being the way we are though, we asked her to come down off the fence and pressed her for a decision!
"OK....if it really had to be one or the other... I'd definitely go for the Tea Tree cream."
You can buy Nelsons products from various retailers and can search for your local stockists or order online - just CLICK HERE for both options.
1 Leivers, The Pharmaceutical Journal, Vol 275, No. 7365, 3 September 2005
2 European Scientific Co-operative on Phytotherapy (ESCOP) monographs 1997