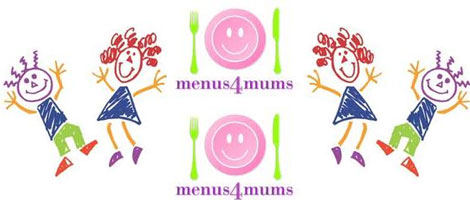 Do you enjoy the domestic drudgery that is cooking for the family day in day out? No, neither do I! Menus4Mums is a like a knight in shining online recipe book that might just come to your rescue.
Don't get me wrong, I like messing around in the kitchen, but I enjoy it when it's on my terms; when I'm not being harassed and when I'm not juggling at least three different personas at the same time: mother, wife, teacher, working professional, unpaid domestic slave...you know how it goes, right?
But it's the daily kitchen grind that can really get you down and it's not the ACTUAL cooking that does it, it's the deciding what to have that isn't the same old same old every week.
Menus4Mums was started by Alison Pinto, a mother of two, who felt the same way.
She understood and decided to start Menus4Mums to take some of the stress out of the kitchen and make the whole family meal planning, and execution of, a more less mind numbing experience.
We tasked Louise, a member of our intrepid testing panel mums, to put Menus4Mums through its paces.  Here's the verdict...
"With the need to ever-tighten the purse strings these days  I was immediately put off by the cost of having to pay for membership, regardless of how reasonable the rates are, especially when you consider the vast magnitude of free recipe sites available on the www these days," said Louise.
There are different membership packages available at Menus4Mums - four weeks is £6.95, six months is £40 and 12 months is £60 with no on-going commitment when your membership time comes to an end.
For your membership money Menus4Mums offers meal planners and tips and advice about which supermarkets have the best offers on the ingredients needed.
"The 'Bargain Spotting' section is quite cool," Louise told us, "a few special offers are listed from all the major supermarkets, so if you had the time/inclination or a few good neighbours to split stores between, you could really stock up the freezer with good deals."
We thought this was quite a clever idea - a supermarket bargain cooperative in effect!
Louise went on to tell us that each of the recipes on Menus4Mums has a really quick preparation time, "For a busy mum and a busy family is essential. Once you've prepared everything, from there on the recipes are pretty self-sufficient too with enough cooking time to get bath-time out the way, which is great!"
They say an army marches on its stomach and the same is true of families. When you actually sit down and think about what's involved in keeping everyone fed and happy, it really is like full military manoeuvres!
First you need to work out what to have for the week, then assess the contents of your cupboards making a list of everything you don't have that you'll need.
Then you have to go and get it, unload it at the checkout, pack it all up, load it into the car, unload it and unpack at the other end; it's no wonder we're all feeling  a bit jaded by the time we start actually cooking!
Now Menus4Mums can't help you with the checkout, packing, loading, unloading and unpacking palava but they CAN help you with the shopping list part of everything.
"The shopping list is another good feature. It lists everything you need, along with quantities and estimated price," revealed Louise.
We particularly liked the sound of the estimated price as this will make keeping to a budget much easier. However, Louise did feel that there was a way in which the shopping list wasn't overly helpful,
"A negative of the shopping list is that it doesn't tell you what recipe an item belongs to, so if you were to decide you didn't want to make one of the recipes, you'd have to manually filter out all the ingredients from that recipe."
Louise also really liked the recipe cards  and told us they could easily be printed to make a mini-book of her family's favourites.
And finally...
Louise's experience and thorough testing of Menus4Mums was a positive one, but what did she think overall?
"I like Menus4Mums. I think it's very useful, but would I pay for it? I'm not sure. I do think, though, that if you're a very routine, organised person, this could simplify life massively and I think you could save a fortune on your grocery bill!" were her final words on Menus4Mums.
Routine, organised, simple life, save a fortune on your grocery bill?  Where do I sign?! I'm off to choose my username right now!