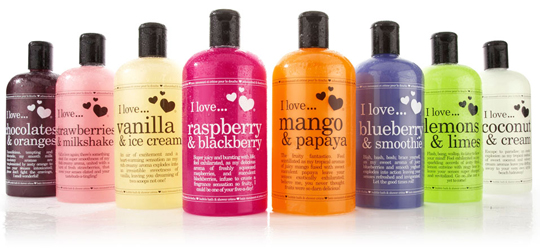 It's always quite amusing when you're assigned a review and instantly conjure up totally the wrong product image in your head!  Juiced Up Blackcurrant?  Ribena on steroids? Really?!
No, not really - but if you like the smell of blackcurrant you're going to LOVE 'I Love...Juiced Up Blackcurrant' bubble bath and shower creme - because that's what it is.  If the smell of super sweet strawberries does it for you, then you might prefer 'I Love...Strawberries and Milkshake' instead.
The three 'I Love...' products sent to me were immediately pounced on by my teenage daughter who adores anything bath or shower.
I Love...Juiced Up Blackcurrant
We both agreed that the I Love...Juiced Up Blackcurrant smells amazingly strong in the bottle, and exactly the way you'd expect something blackcurrant to smell.
The packaging is simple and funky and we both love the colour of the bubble bath and shower creme - you can use it either way - and like the fact you can actually see it inside the bottle.  Not only because the colour is so intense it makes you want  to use it, but so you can at a glance how much you have left.
You get a whopping half a litre in the bottle for a mere £2.05, an absolute bargain we thought, BUT the proof of the Juiced Up Blackcurrant is in the washing!
We were slightly worried that, because of the strength of the smell in the bottle, we'd be wandering around with a strong 'haze' of purple blackcurrant smell following us around all day - but this was not the case at all.
The smell in the shower is amazing and if you're a fan of lots of bubbles then you're going to be a happy lathered up blackcurrant bunny.
Once we were done soaking or showering, our skin felt lovely and soft; we did smell of blackcurrant but not enough to worry about anyone stepping back in shock and saying, "WHOA!!!  You REALLY smell of blackcurrant!"
I can't lie to you and say the smell lingered on our skin for hours and hours, because it didn't, but then again it doesn't claim to and for £2.05 for 500ml, you really can't complain.
My only slight concern, is the 'For Adult Use Only' on the label; why?
I can't find anything anywhere to explain this, the only conclusion I can come to is because it really does smell good enough to eat and little kids might just be tempted to try that out!
Pros, Cons, Overall Score
Pros - huge bottle, great price, fabulous smell (if you like blackcurrant!), lathers up really well, washes off easily and leaves your skin feeling soft with a light blackcurrant smell
Cons - not great if you don't like smelling like a blackcurrant (I couldn't resist!), if you want a really long-lasting fragrance then you're going to be a little disappointed
Overall Score - 9 out of 10
 I Love...Strawberries and Milkshake
Ooooh this  I Love...Strawberries and Milkshake Bubble Bath and Shower Creme is SUCH a pretty pale pink colour and the smell is very sweet.  Have you ever eaten those Strawberry Maoam chewy sweets?  Well I Love...Strawberries and Milkshake smells just like those!
Again, it's a 2-in1 bath and shower product - that makes me happy,  I tend to shower most of the time but when I want to lounge some time away in the bath I don't want to have to use a separate 'only for baths' product, it makes me feel I'm being ripped off.
Everything I said about I Love...Juiced Up Blackcurrant applies to I Love...Strawberries and Milkshake - there really is nothing extra I can say about it; if you like sweet smelling, fruity shower or bath things then you'll love both of them.
The same pros, cons and overall score applies.
We were also sent I Love...Strawberries and Milkshake Body Butter, this also retails for £2.05 and I was rather looking forward to using it; I'm a bit of a body butter fan.
If I was to describe it, I'd be more inclined to call it a body 'mousse' - it's quite light and not super thick and heavy.  If you prefer lighter then you'll be happy, if you like your body butters to be really thick and 'robust' to the touch then you might be a little disappointed.
Having come out of the shower smelling of Strawberries and Milkshake, I was expecting to layer on the same smell but it didn't smell the same to me.  Instead what I smelled was more of a petroleum/Vaseline scent - I didn't like it!
However, that aside the I Love...Strawberries and Milkshake body butter did leave my skin feeling 'buttered' and soft without feeling greasy.  Having read lots of customer testimonials, lots of people love it and love the smell.
Pros, Cons and Overall Score
Pros - great price, leaves your skin feeling soft without being greasy
Cons - not thick enough if you like really thick body butters, didn't smell very Strawberries and Milkshake to me
Overall Score - 7 out of 10
 And finally...
If you, or your teenage daughter, like sweet, fruity shower and bath things then you really love the I Love... product ranges.
Their pricing is incredibly reasonable, a little goes a long way and none of their products are tested on animals - you can read their animal testing blurb HERE.
You can buy I Love...products from Superdrug, Morrisons and The Co-operative - there are other 'flavours', apart from Juiced Up Blackcurrant and Strawberries and Milkshake, to choose from andSuperdrug currently have a Buy Two for £2.99 deal on I Love... products at the moment too!
A final word about Juiced Up Blackcurrant - it's a limited edition flavour and as yet there's no sign of it online or in the shops, so you're going to have to keep an eye out for it if you want it!