My name was drawn out of the hat to review some Lloyds Pharmacy Christmas Gifts - two of the items I received make for obvious Christmas gifts but the other two...well, I was bemused and even having looked at them from all sides of the fence, I'm still bemused.  See what you think as we go through the items sent to me under the banner of 'Lloyds Pharmacy Christmas Gifts'.
Ladies Mini Fragrances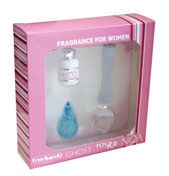 My nan used to hold a huge family party on Boxing day - it was something I always looked forward to as it meant lots of fun, games and messing around with my cousins, but it also meant lots of extra presents from my nan.
I remember feeling very grown up one year when she gave me a little set of mini perfumes, much like the Ladies mini perfume set from Lloyds Pharmacy.
What I don't remember is the tiny little perfume bottles coming in such a lot of unnecessary packaging; I'm not an excessive packaging protester by any stretch of the imagination but this was the very first thing that struck me, so know that it's bad!
Four tiny bottles measuring no more than seven-and-a-half cms each come packed in rigid plastic and a box measuring 17cms square.  I can't begin to tell you how much empty space is in that box AND it looks cheap and nasty, which for £11.99 is not what I want; I'd far rather the four mini perfumes came in a much smaller and more elegant box, even if that meant paying a few pounds more.
The Ladies Mini Fragrance gift set contains the following:
Ghost (5ml) - me, my 17-year-old son, 16-year-old daughter and my husband all agree that Ghost is very sweet smelling, powdery and not very young; great for your granny, not so good if you're under 75.
Anais-Anais (6ml) - my mum used to wear this when I was about 13.  Goodness knows what on earth she was thinking as it's possibly the most flowery perfume ever made - fabulous if you like smelling like a bouquet from a florist, but one to avoid if floral scents aren't for you.
Nao (7ml) is fresh and young, it's still quite sweet but it's not sickly.
Tous H20 (4.5ml) was the only one of the four mini fragrances that got the thumbs up from all of us; it's fresh and clean and ageless making it a great all-rounder that will be suitable for any age and any perfume personality.
Men's Mini Fragrances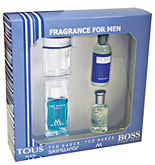 The Men's Mini Fragrances come in the same ridiculous packaging as the Ladies fragrance set, looks just as cheap and nondescript, and cost slightly left at £9.99.
The four fragrances included are:
Ted Baker M (10ml) is very sweet and, I'll honest, smells as if it belongs in the early 80s (think Kurous, Aramis et al) and got a very quick thumbs down from all of us.
Ted Baker Skinwear (10ml) - Lloyds Pharmacy describe Ted Baker Skinwear as 'fresh, sharp and masculine', my husband and son both agree that it smells of, and I quote, "Cheap, dodgy booze."
Boss 'Hugo Boss' (5ml) - I've liked Boss 'Hugo Boss' for years and I still do.  It's light, it's fresh with a bit of an oriental twist to it; it's not overpowering and lasts on the skin for a good time.
Tous Man (4.5ml) - Everyone liked Tous Man, it's quite similar to Hugo Boss but slightly stronger and is the sort of men's fragrance that, for me, makes my heart beat just a little faster when I smell it.
The Tous fragrances for, both, men and women are the only two that got a thumbs up from everyone; the rest were a bit hit and miss and that, I think, is the problem with these little fragrance gift sets - you're going to end up with one or two that you love, if you're lucky, and the others will end up gathering dust, being given away or thrown in the bin.
Pros and Cons
Pros - easy to give if you're really stuck for a present idea, great if you know the person you're giving it to likes the fragrances in the box
Cons - not great value for money, excessive packaging, looks cheap, a bit of a cop-out thoughtless present (in my opinion).
Overall score - 5/10
StopSnoring Advance and ColdSore Clear Advance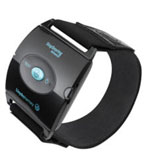 Would you give an electronic device to someone, for Christmas, that would help them to either stop snoring or clear up cold sores? No, neither would I.
How would you feel if you received an electronic device from someone, for Christmas, that would help you to stop snoring or clear up cold sores?  I'd want to slap them!
It doesn't matter how well these products work, for me, this is NOT the sort of thing you give someone for Christmas, or a birthday or anniversary for that matter.  As an 'I saw this and thought you might find it useful' pressie, maybe - but for Christmas...NO!
I ran into review trouble with these two items - my husband doesn't snore and I don't know anyone who suffers from cold sores, let alone anyone who conveniently had one that we could test the ColdSore Clear Advance on!
However, there are plenty of people out there in Internet land who do and can help shed a bit of light on things.
The StopSnoring Advance costs £24.99 and is a huge chunky wrist watch looking device.  It works using bio-feedback and sends what is described as a 'weak pain free massage wave' to the wearer when it detects three consecutive snores.
This isn't enough to wake the snorer up but is, by all accounts, enough to make them stop snoring; if you've ever tried sleeping alongside anyone who snores you will know just how horrendous it can be when they're in full snort mode!
I can't tell you whether this StopSnoring Advance digital device works or not, but people who have one say that it does and are very happy non-snorers as a result.

The ColdSore Clear Advance (currently £24.99, is usually £34.99) uses red light technology to promote faster healing of cold sores by encouraging cell regeneration; you need to use it for one minute three times a day on a daily basis and can be used from the tingle stage right through to when the blister forms.
I've never suffered from cold sores but understand the misery of people who do, I can imagine regular sufferers might be particularly keen to try out anything that promises relief and potentially vulnerable as a result.
It doesn't take much Googling to discover that hundreds of cold sore sufferers use products very similar to the ColdSore Clear Advance and are over the moon with the results.
For some, the blisters never appear if they've managed to zap the area as soon as the tingling starts, others say that the healing process is much faster than topical creams and much more convenient.
I haven't come across anyone who has anything bad to say about this sort of light therapy device for the treatment of cold sores.  However, I cannot give you any sort of feedback on it from my personal experience.
Pros and cons
This is a little tricky as I haven't used them - both devices seem a little expensive to me BUT if they're effective and offer cold sore sufferers relief, if they stop people snoring allowing everyone to get a good night's sleep then they're going to be worth every single penny, worth their weight in gold in fact.
I can't give you an overall score either as I've not used either of them - shame on me for not having a snoring husband or knowing a cold sore sufferer.
And finally...
I'm no longer a fan of mini fragrance gift sets, personally I think they're thoughtless and a bit naff when you're older than 15 - if you end up with a fragrance you like then you're lucky, the rest is just a waste.  The packaging for these particular mini fragrance sets is badly thought out, excessive and looks cheap too.
As for the StopSnoring Advance and the ColdSore Clear Advance, I wouldn't recommend you give them to anyone as a Christmas pressie, unless you don't want them to talk to you for months.  It would be akin to buying your mum, or wife, a vacuum cleaner or your dad, or husband, a pair of socks and some de-icer!
Fabulous they may be, according to internet reviews, but NOT for Christmas.