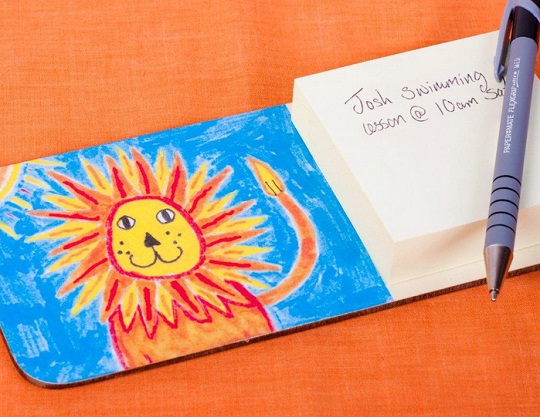 Finding gift ideas for family members like grandparents is always a struggle. Usually, they've got everything already. I usually end up making a calendar using photos of their grandson/godson/nephew. But honestly, I've done that for seven years now and would really like to do something different.
It was quite exciting then to open up the envelope I received from Funmats. The company describes itself with the tagline of 'the art of school fundraising'. Which is pretty straightforward as all the products are based around art. Your child's art, to be specific.
However, the site doesn't only offer products for school's to use for fundraising. There's also a section for families too, so you can opt to get some of these products made yourself, if your school's PTA isn't doing anything.
This was a double whammy for me, as I'm chair of my son's school's PTA and a mum myself. So I was very interested in how it would work from both perspectives! Here's how I got on.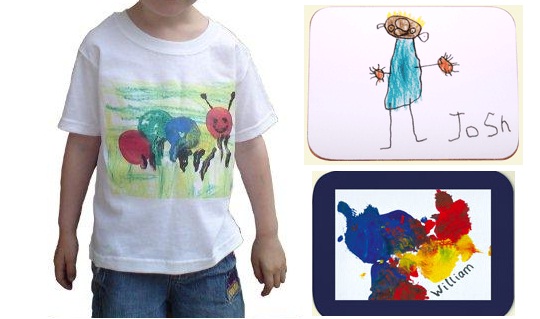 There's stacks of great ideas on the site. To start with I just spent ages looking through. It isn't the most professional site I've looked at but then it isn't a big money making corporation either! There's lots of potential in the commemorative Jubilee items, and if you're having a summer fair at your school this year it would probably be well worth looking into the Olympic ideas on the site.
It is fairly easy to do. I got a pamphlet in the post, with glossy colour photos of the products I could order, and a clearly laid out price list. This gave you a good description of the product too, as well as details such as size.
There were a number of forms included for the drawings. You have to use these and the drawing has to be within the frame area on the form. The company makes it clear that it can't accept drawings done on any other material.
This has to do with the way the drawing is scanned and transferred to the products. Likewise, it has to be a drawing not something like a handprint, as these are enlarged for some of the products. So you'd just end up with an adult sized handprint!
What I liked about the form is that the frame area is the whole piece of card. That is, there's no tempting edges that I just know my son would inevitably draw outside of. He's just made that way!
So, for me that was a really nice touch. I suspect Funmats knows its audience pretty well.
It took a while for my son, who is seven, to understand the concept. Initially he wanted to draw it in pencil only. Not coloured pencils, just ordinary! It took me a while to convince him that the picture would reproduce much better if he used colour. In the end he opted for both. A mix of pencil, and felt tip pens.
Worried that the pencil might not scan too well, I went over it after in the areas where it was a little bit light. In the end it all reproduced quite well, but I am glad I darkened the lighter pencil.
My son chose the coasters for his grandmother. I think part of the reason for this is that we received a sample coaster as part of the pack. This is a really good idea, as it helps the children understand what is going to happen with the pictures, especially younger children.
The coasters cost £2 each, with a sale value for a school of £2.50, making it a 50p profit if you're doing this for fundraising.
We also chose the glass chopping board (£9.50 each with a resale for the school of £12.50, making it a £3 profit), as his grandmother uses these, and I think it made him think of her. Personally, I'd have quite liked to have got one of the bags or a t-shirt. Only children's t-shirts are available, which is a shame as his dad's birthday is coming up and this would have made a really fabulous gift. Especially as my son's drawing is of a rather mad looking pirate stabbing a dragon with a sword.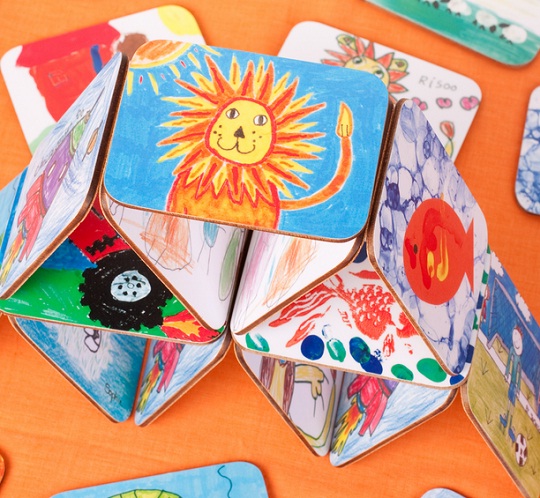 Overall I was impressed with the quality. Items seem solidly well built, with good quality material. Although it is too soon to say how they'd stand up to the test of time, I'm happy to give any of these as a gift.
The good: lots of great products to choose from, and using your child's art this way makes for a great gift idea
The bad: a small amount of space to do the picture, which is quite difficult for the smaller ones
Overall verdict: 9/10
I particularly like that, unlike some other services I've seen, you're not being charged a premium just for the privilege of putting your child's art on the item.